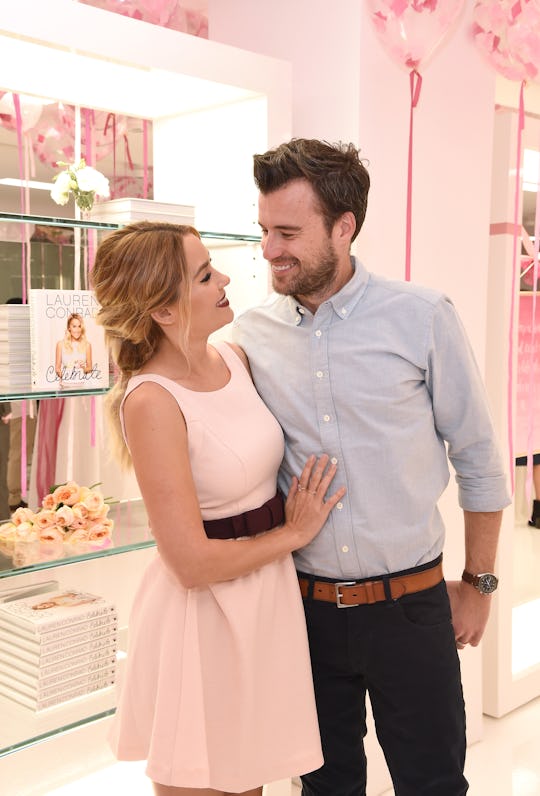 Larry Busacca/Getty Images Entertainment/Getty Images
Lauren Conrad & William Tell Met In The Cutest Way
2017 is already off to a great start for fashion designer and author Lauren Conrad: On New Year's Day, the 30-year-old posted an Instagram photo announcing that she's pregnant with her first child. It's exciting news for Conrad, who's only been married to husband William Tell for a little over two years now. How did Lauren Conrad and William Tell meet? As it turns out, the pair first met in high school, according to Conrad's own blog. Before he was an entertainment lawyer, Tell was both a singer and guitarist for the band Something Corporate. "I met my husband when I was 16 and sitting onstage at one of his concerts," Conrad wrote. But it's the next line where it seems like the magic really happened: "10 years later we were set up on a blind date."
Forget e-Harmony or Match.com: Conrad and Tell went as low-tech as possible for their first official date. Conrad and Tell were set up on a blind date on Valentine's Day in 2014, thanks to unnamed mutual friends. Turns out that yes, blind dates can lead to lasting love. (I can speak from experience. My parents — who just celebrated their 47th wedding anniversary — also met on a blind date.)
From that first blind date, their relationship took a whirlwind trip to wedded bliss: Conrad and Tell moved in together in September 2013 — just seven months after they began dating in February. The following month, Conrad announced her engagement to Tell via her blog. An accompanying post on Instagram revealed that the engagement was as complete surprise to Conrad, as she showed off her engagement ring with the caption "Best surprise ever." The couple had a year-long engagement, with Conrad posting plenty of wedding planning updates at her blog, including how to enjoy the wedding planning process itself. If there's one person I would expect to dive into wedding planning with gusto, it's Lauren Conrad!
Conrad and Tell got married on Sept. 13, 2014 in a secluded winery in Santa Ynez Valley, California. It was quite the stylish, lavish affair you'd expect from Conrad: According to People Magazine, she had nine bridesmaids while Tell had eight groomsmen. Guests were given wine bottles as wedding favors. Surrounded by close friends and family, their sunset wedding was officiated by a close friend. *swoon*
It must have been love at first sight — on a blind date, no less — because Conrad and Tell share a storybook love that practically writes itself.