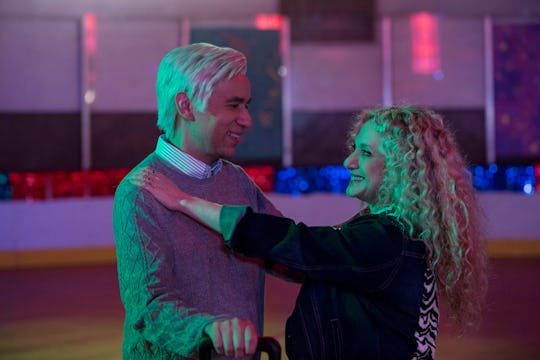 Eric Liebowitz/Netflix
How Did Lillian & Bobby Durst Meet On 'Unbreakable Kimmy Schmidt'? It's An Age Old Story
One of Unbreakable Kimmy Schmidt's strongest comedic selling points is the way it draws from true stories in spoofs that hew so closely to real life, it's uncanny. For example, in Season 1's multi-episode trial arc, there's the incompetent prosecutorial team similar to Marcia Clark and Chris Darden, who bumble the case against Kimmy's captor in a spot-on parody of O.J. Simpson's prosecutors. Season 2 draws from another real-life true-crime character, introducing Bobby Durst — a possible spoof on Robert Durst, the subject of the HBO documentary mini-series The Jinx — as Lillian's love interest. But how did Lillian and Bobby Durst meet? (Romper reached out to Netflix regarding the similarities between the character and Durst, but did not hear back at the time of publication.)
Though many of us wouldn't catch the Marcia Clark/Chris Darden joke until The People v. O.J. Simpson aired a year later, The Jinx is a little fresher in the audience's mind. The miniseries investigates eccentric and wealthy real estate heir Robert Durst, who was investigated for the disappearance of three people (which he has not been found guilty of). So basically, he's the perfect match for Kimmy's landlord, Lillian — or not.
In the Season 2 premiere, we learn that Lillian still thinks about her first love, Bobby, whom she met at summer camp on Roosevelt Island. "Little Bobby Durst," as she lovingly remembers him was "her first crush...literally. He tried to crush me."
We even get to meet him later in the episode, as flawlessly portrayed by Fred Armisen. Bobby is characterized as an old man, muttering nonsensically and wheeling around an enormous suitcase. (Morris Black's dismembered body was found in garbage bags.) He and Lillian reunite and go on a rollerskating group date in an effort to first, get Kimmy back on the dating scene, and later, to reunite Kimmy with her ex, Dong. Bobby and Lillian end up alone on the roller rink together (GET OUT OF THERE, LILLIAN) singing a duet accompanied by Bobby on ukulele under the disco ball. There's even a reference to the real Robert Durst's infamous nervous burping tic.
Since Lillian and Bobby appear to be the same age, and both grew up in New York, the summer camp story is perfectly plausible, even though their random reunion in a dollar store is kind of a throwaway intro (I'll let it slide since it's such a great nod to pop culture and the news). Plus, Fred Armisen's parody is so good, I'll take any excuse to 'ship Lillian and Bobby that I can get.