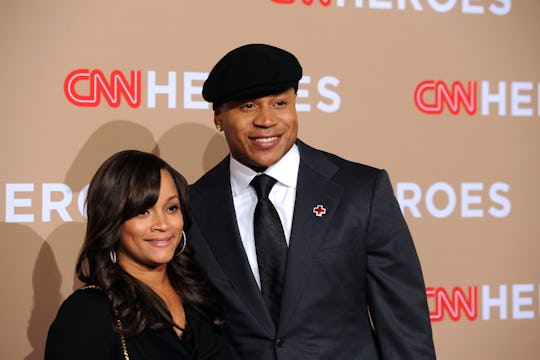 Frazer Harrison/Getty Images
How Did LL Cool J Meet Simone Smith? Their Story Is Seriously Sweet
LL Cool J is no stranger to the Grammy stage. He's set to host this year's 58th Annual Grammy Awards, which will be his fifth consecutive year presiding over the star-studded event. In total, he's got about ten years of experience with the Grammys, including hosting "A Very Grammy Christmas" special. Plus, he's won two Grammys himself. Not too shabby a track record, but what do you expect from someone whose middle name is "cool"? With the excitement of the Grammys ramping up, fans are wondering: How did LL Cool J meet Simone Smith, his wife?
LL Cool J has had an amazing career. He's a rapper, producer, actor — most known for his role on "NCIS: Los Angeles" — and an activist. His wife of twenty-one years, Simone I. Smith, is just as accomplished and inspirational, if not more so. She is most well known for her work as a jewelry designer and entrepreneur, but she is also an accomplished advocate and philanthropist. A self-proclaimed "hoop girl," she loves bold designs inspired by styles she saw growing up in Queens, NY. She has said that LL Cool J gave her her first pair chunky hoops as a gift when she was just a teenager; that was the beginning of her career and their relationship. Her first successful venture, Ms. Got Rocks was a line of beaded, bedazzled bandanas. In 2004, all that came screeching to a halt when she was diagnosed with cancer. After years of treatment and rehabilitation, Smith got back into the jewelry game, but with a new purpose of raising funds and awareness for cancer research and treatments. She continues that work to this day. Her jewelry designs are a favorite among Rihanna, Mary J. Blige, Missy Eliot, and Rachael Ray.
In 2012, LL Cool J was a guest on "Jimmy Kimmel Live," and during his interview he spilled the beans about how he met the amazing Smith way back in 1987.
"I was just 19, something like that," he told Kimmel. "It was Easter and I was driving down the block in my mother's car." According to LL Cool J, he stopped to say hello to the friend, and the friend said, "Hey, you wanna meet my cousin?" Apparently, LL Cool J was about to decline when he saw Smith. He recalled, "I looked over and said 'Oh yeah, I'll meet your cousin.'" The rest is history.
After dating for eight years, LL Cool J and Smith were married in 1995. They have four children together and live in New York. Smith is sure to make an appearance at the Grammys, so to catch her and LL Cool J, tune in Monday, Feb. 15 on CBS for this year's Grammy Awards.