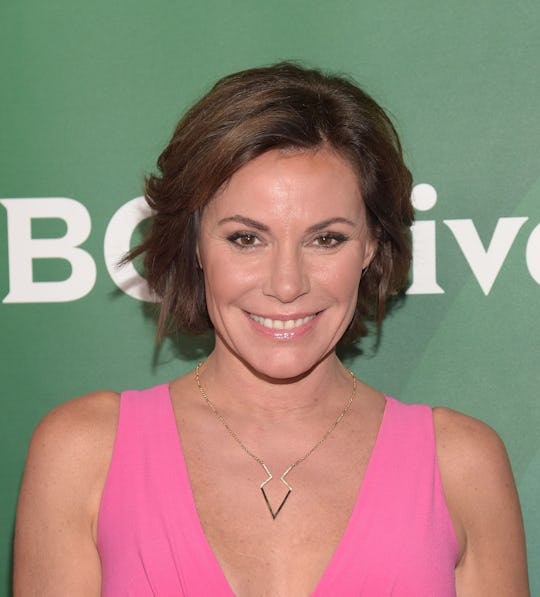 Jason Kempin/Getty Images Entertainment/Getty Images
Luann De Lesseps Isn't Lacking Financially
The title Real Housewives is often a misnomer, since many cast members from many cities also have jobs. They might not be full-time jobs, but the women are extremely active. The Real Housewives of New York fall into this category. Most of them, like Luann De Lesseps, made some money early in their lives, but ended up marrying into it more than anything else. And hey, there's absolutely nothing wrong with that!) Luann was born in Connecticut to a pretty middle class family and was going to be a nurse once upon a time. That is, until a friend told her to enter a beauty pageant, which ended up leading to modeling gigs.
To pursue her modeling career, Luann moved to Milan, Italy, but sort of struck out there. She ended up being the host, or a veline, of one of those iconic Italian TV shows that are about soccer, news, and sponsored by the former Italian prime minister and cable television mogul Silvio Berlusconi. She told New York that she and her co-host were like the Regis and Kelly of soccer TV. She also once impersonated Sharon Stone on Italian TV:
So she likely made a nice sum of money for herself throughout the '90s by modeling and starring on television. And then she met Count Alex de Lesseps and left it all behind.
Luann and the Count married in 1993 and they had two children together. During that time, she didn't really work and mainly lived the European life of luxury, hanging in the Swiss Alps and New York City. She divorced the de Lesseps in 2009 after he had an affair. The Count is reportedly worth around $50 million and Lesseps is estimated to be worth anywhere from $2 to $15 million. Though now that she's married to Tom D'Agostino (thereby losing her Countess title), who knows if she still has access to any of her former husband's money.
Although she worked throughout her life, Luann makes most of her money now just by being a Bravo reality TV show. In 2015, she, Sonja, and Ramona went on a mini-strike about filming until their salaries per season matched that of the just over $1 million that Bethenny Frankel gets. For a while, they stopped filming, but it looks like a compromise was reached.
Combined with the money she (might) make from her music career and books deals she's received from being on the show, most of Luann's net worth has been earned just by being rich enough in the first place to get on the show. But even if it was Berlusconi's money that initially brought her into the spotlight, Luann is the one who turned herself into a star.