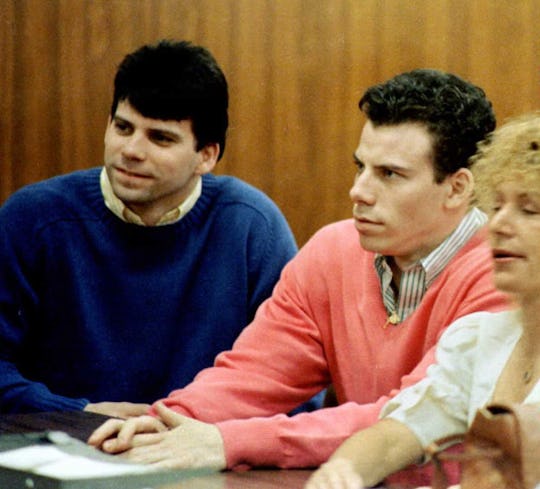 MIKE NELSON/AFP/Getty Images
Lyle Menendez & Rebecca Sneed Used To Be Pen Pals
Lyle Menendez and his brother, Erik, have spent the last 27 years in prison serving out life sentences for the murders of their parents in August 1989. The murders are one of the most talked about criminal cases in the late 20th century, which is why ABC is doing a new special documentary on it, entitled Truth and Lies: The Menendez Brothers, to dig deeper into the murders and see how the brothers are handling life in prison. Since being in jail, both brothers have found love and have married — in fact, Lyle even married twice. His current wife is Rebecca Sneed, an attorney, and they've been married for a little over 13 years. So how did Lyle Menendez and Rebecca Sneed meet while Menendez was in prison? The couple started out as pen pals.
Lyle was first married to another one of his pen pals, Anna Eriksson, who was a former model. The couple married in July 1996, but divorced almost five years later after Erikkson discovered Menendez was "cheating" on her by writing to another woman, which was presumably Sneed. So apparently not only can you get married in prison, but you can also have an affair. Who knew?
Lyle was divorced from his first wife by April 2001 and then proceeded to marry Sneed in November 2003. According to NBC News, Menendez and Sneed knew each other for 10 years prior to their marriage and exchanged vows in a ceremony at Mule Creek State Prison near Sacramento, California.
The couple will never be close to each other, physically anyway, since California prison regulations prohibit conjugal visits for inmates who are serving life terms. This detail may be why tabloids like the The National Enquirer claimed in 2014 that Menendez was living a secret gay life in prison and Sneed was planning to divorce him. However, the couple is still married so it seems there was no truth to the rumors, though I suppose we may never know for sure.
Although it's a bit hard to understand how someone could fall in love and get married while in prison, the relationship seems to be working for Menendez and Sneed. You can hear what Menendez has to say about his life now in Truth and Lies: The Menendez Brothers, which will air on Thursday, Jan. 5 at 9 p.m. ET on ABC.