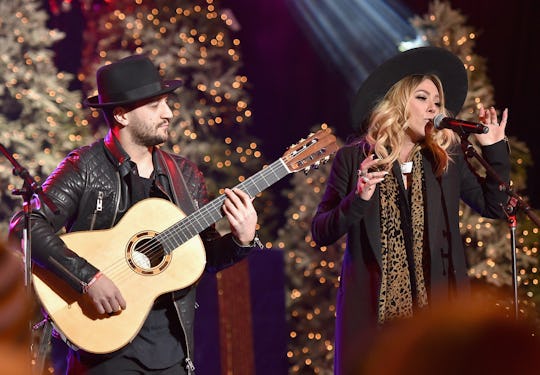 Mike Windle/Getty Images Entertainment/Getty Images
How Did Mark Ballas Meet His Fiancée BC Jean? Their Story Is Adorable
Mark Ballas has always been a favorite on Dancing with the Stars. Over the course of the (can you believe it) 18 seasons Ballas has been featured on the show, it often felt that he had a huge part in his celebrity getting as far as they did. Now, Ballas and his new partner — no, not the one on the dance floor — are also going the distance, and getting married. In November, Ballas proposed to his girlfriend of three years. But how did Mark Ballas and his fiancée, BC Jean, meet? Their story sounds like a movie.
Since 2007, when Ballas started on the show, he has won the mirror ball trophy two times (while placing in the top three a total of seven times). Now, dancing with Paige VanZant, he's certainly in the running to make it far, assuming he doesn't injure himself. But VanZant is not the only lucky partner in Ballas' life. He and his fiancée/ band partner, BC Jean, are not only going strong, but they're also coming out with new music, too. But, it's the couple's "how'd you meet" story that will definitely capture your heart.
In an interview with InStyle, Ballas spoke about how the two met, and if you're ready to hear a story that sounds like a Hollywood movie, then here we go:
"A few years ago, a mutual friend of ours hosted an online concert where people could buy tickets that donated to charity, and both BC and I were on the bill. When I arrived, It was so packed that you literally could not move. BC was on stage, and I couldn't see her—I could only hear her. I remember thinking, 'Wow. She's got it going on.' She sounded like a mix of Janis Joplin and Stevie Nicks. I was expecting to see someone in their forties slugging whiskey, but I was in complete disbelief when the crowd cleared and I saw a gorgeous blonde."
OK, so the tl;dr version of that is: go to concerts (preferably as a performer), ~listen with your heart~, and hope you fall in love with someone. Jean tells the story in a similar fashion, but shows that she was a little more focused on the business side of their relationship before the romantic side (at first, at least).
"When Mark took the stage, my immediate thought was that he's super talented. He was doing a lot of hip thrusts and started flirting with me, but I was all about the business. I wanted to make sure that we could work together. Five and a half hours later, we were on a date, and we've been together ever since."
Now, years later, the couple has successfully launched a band, Alexander Jean, and continued to produce music fans are loving. Check out their acoustic cover of their song "Roses and Violets," which Ballas told People inspired him to line their driveway with the flowers the day he proposed.