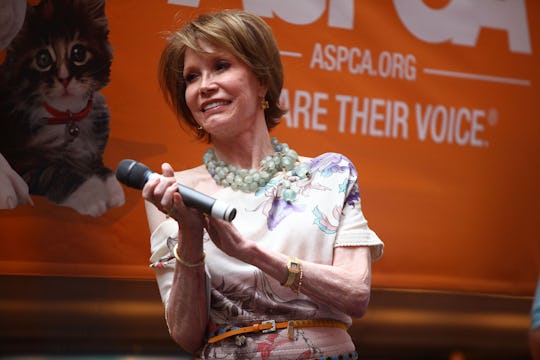 Astrid Stawiarz/Getty Images Entertainment/Getty Images
Beloved Actress Mary Tyler Moore Dies At 80
According to her rep, actress Mary Tyler Moore died on Wednesday, at the age of 80, after reportedly spending a week on a respirator. The Mary Tyler Moore Show star struggled with diabetes for several decades, and in 2011, she underwent surgery to remove a tumor from the lining around her brain. But how did Mary Tyler Moore die? The iconic actress' health had apparently been declining for a while, with sources reportedly telling TMZ that she suffered from multiple health problems, and her health had recently taken a turn for the worse.
Moore reportedly died at a Connecticut hospital surrounded by family and friends who came by to say their goodbyes. The news was confirmed by her longtime representative Mara Buxbaum, according to MSNBC's Jesse Rodriguez and several other outlets.
"Today, beloved icon, Mary Tyler Moore, passed away at the age of 80 in the company of friends and her loving husband of over 33 years, Dr. S. Robert Levine," Buxbaum told Romper, in a statement. "A groundbreaking actress, producer, and passionate advocate for the Juvenile Diabetes Research Foundation, Mary will be remembered as a fearless visionary who turned the world on with her smile."
Moore was best known for her roles in sitcoms like The Dick Van Dyke Show and The Mary Tyler Moore Show, and many have credited her with advancing women's place both in Hollywood and in comedy. According to The Atlantic, writer Jennifer Keishin Armstrong (who wrote an entire book on Moore's show) said that The Mary Tyler Moore Show was "TV's first truly female-dominated sitcom." In the 1970s, when the show first aired, that was a big deal, and it helped lead the way for women today. As TV critic Willa Paskin wrote for Salon:
It's hard to imagine Girls or 30 Rock without Mary Tyler Moore.
Celebrities like Oprah have credited Moore and her sitcom for inspiring them. "The show was a light in my life, and Mary was a trailblazer for my generation," Oprah said in one interview, published on the Oprah website. "She's the reason I wanted my own production company."
Moore's popularity may have started in the 1970s, but admiration for the actress continued long after that. She was presented with a lifetime achievement award by the Screen Actors Guild just five years ago, and according to Us Weekly, she has also been recognized for her efforts at raising awareness about diabetes. Moore also well-known for her animal advocacy, spending time working with the ASPCA and Farm Sanctuary.
Moore was a woman who inspired many throughout her career and her life, and condolences have already been pouring in from fans (along with a few hate messages for 2017 here and there for taking one of the world's favorites so soon). But in light of the sad news, I'll leave you with one of Moore's inspiring and uplifting quotes. Speaking about her health issues and her personal life, Moore told ABC in 2009 that the most important thing to remember was that "it's OK":
Whatever it is, it's OK because it's what it is. Don't be looking for perfection. Don't be short-tempered with yourself. And you'll be a whole lot nicer to be around with everyone else.
Thanks for the memories and the wise words, Moore. Her legacy lives on in the hundreds of women who grew up with her as inspiration and laughed along with her on-air struggles and victories.