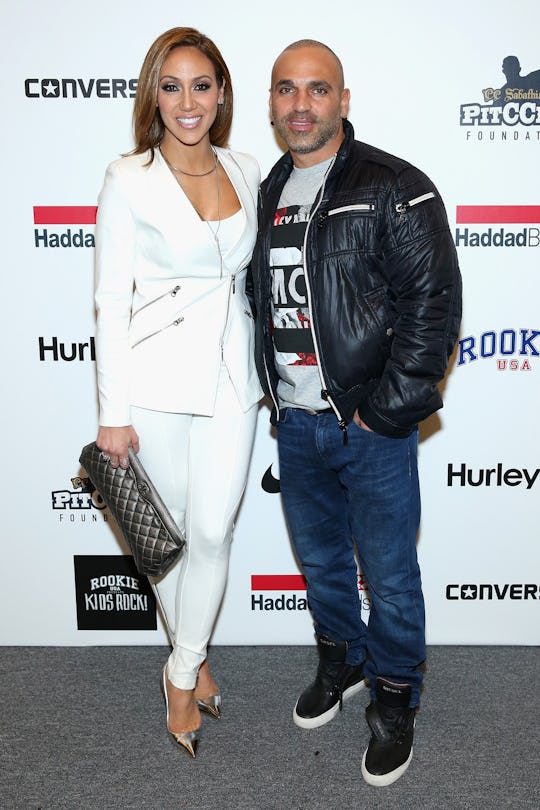 Monica Schipper/Getty
How Did Melissa & Joe Gorga Meet? The 'Real Housewives' Couple Met By Destiny
Melissa and Joe Gorga may not have met in high school like his sister Teresa and her husband (also named Joe), but it wasn't long after that the two came together. Some of Joe's recent comments about marriage, gender roles, and how many hours, exactly, of wifely duty Melissa is supposed to be clocking are questionable, to say the least. But it is also clear that Joe is very much in love with his wife. So how did Melissa and Joe Gorga meet, anyway? Basically, it was love at first sight. If you believe in all that mushy stuff, that is.
The story goes that when she was just 21 years old, Melissa was on spring break in Cancun with her friends, and Joe was on spring break in Cancun with his friends, and somehow they were both staying at the same resort. From across the pool, Joe supposedly saw Melissa and the rest was history. "That's gonna be my wife," he reportedly told his friends. He didn't speak to her in Mexico, but apparently went on a "hunt" for her, and they eventually met for real back home in New Jersey. Less than a year later they were married and the rest, as they say, is history.
They've told this story a few different times, including once on Andy Cohen's Watch What Happens Live: After Show, so it must be true. But I just have so many questions. Is there only one hotel in Cancun where all the New Jersey college-aged kids stay? By what miracle did they find each other again in Jersey? And was that Joe's opening line? "By the way, I saw you once before in Mexico and I've been looking for you ever since?" It's a pretty good line if it was.
Joe Gorga says a lot of things that I disapprove of, including constantly bringing up how often or not often enough his wife agrees to sleep with him and lamenting the fact that now she's working, Melissa has become a "part-time wife." But even a crazed feminist like myself can appreciate the love these two obviously have for each other.