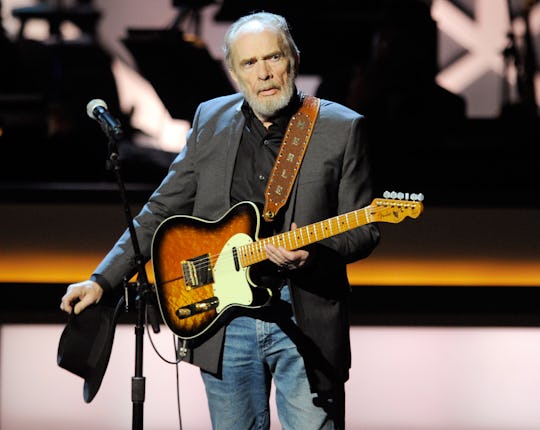 Ethan Miller/Getty Images Entertainment/Getty Images
How Did Merle Haggard Die? The Country Music Legend Passed Away At 79
Country music legend Merle Haggard died at 79 on Wednesday, his birthday, at his home in Redding, California, according to reports confirmed by the Associated Press. An architect of the Bakersfield sound of West Coast country music in the '60s and '70s, he was often considered "the Poet of the Common Man." So how did Haggard die?
A California native and former San Quentin prison inmate (Haggard met fellow country music legend Johnny Cash there, when Cash performed a set onstage for the inmates), Haggard's sound became a prototype for the developing honkytonk music scene in California, influencing both country and rock & roll artists from Waylon Jennings to Eric Church.
Haggard's spokewoman Tresa Reburn told the L.A. Times this week that she was "very sorry to say it's true." While no official cause of death has been reported, Haggard's manager, Frank Mull, said the legendary country singer was diagnosed with pneumonia last year and has been in and out of the hospital ever since, according to the Chicago Tribune. While he had continued to perform on what the Tribune called "an ambitious touring schedule", the pneumonia in both lungs stopped him from playing several shows earlier this year. In 2008, Haggard also survived a bout with lung cancer.
Born in 1967, Merle Ronald Haggard took material from his own poor, rough childhood as the son of a railroad worker. His popular song "Mama Tried," is taken from his adolescent habit of hopping trains in Southern California. He spent his teens in and out of trouble and, by Haggard's own estimate, had been arrested more than a dozen times for misdemeanors like petty larceny, shoplifting, truancy, and joyriding.
Haggard considered music his salvation from his hard upbringing, having learned to play guitar at 11. In 1957, he was caught with a friend trying to rob a café and was subsequently sentenced to five years in San Quentin State Prison. His time in prison would influence his music in songs like "Mama Tried" for the rest of his life.
During his music career spanning over six decades, Haggard had 38 Number 1 hit country singles. Inducted to the Country Music Hall of Fame in 1994, his best-known hits included 1969's "Okie from Muskogee", "Working Man Blues", "Sing Me Back Home", and "The Bottle Let Me Down." He wrote country classics that have been covered by countless artists like Dolly Parton, Emmylou Harris, and The Grateful Dead.
His standing in the country music world ranks with that of Hank Williams and Johnny Cash. According to Rolling Stone, Willie Nelson once called Haggard's songwriting talent, "one of the best", and in 2009 Bob Dylan praised him in an interview with the magazine, saying, "Merle Haggard has always been as deep as it gets." He continued:
Totally himself. Herculean. Even too big for Mount Rushmore. No superficiality about him whatsoever. He definitely transcends the country genre. If Merle had been around Sun Studio in Memphis in the Fifties, Sam Phillips would have turned him into a rock & roll star, one of the best.
As news of Haggard's death began to spread on Wednesday, many well-known country artists and fans took to Twitter to mourn the loss:
Merle Haggard is survived by his wife Theresa Haggard and his six children: Dana, Marty, Kelli, Noel, Ben, and Jenessa.