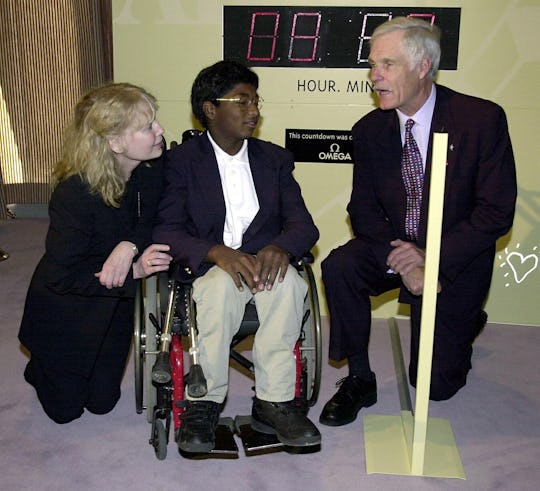 HENNY RAY ABRAMS/AFP/Getty Images
How Did Mia Farrow's Son Die? Details Are Scarce
Just weeks after actress one legendary actress celebrated the birth of her granddaughter, she is now mourning the tragic death of one of her own children. In a heartbreaking report, TMZ reported Wednesday evening that Mia Farrow's 27-year-old son had died after sustaining a life-threatening injury inside his car. Thaddeus Farrow, who was paraplegic due to an earlier case of polio, first joined the Farrow clan in 1994, when the actress adopted the boy from Calcutta, India.
The Farrow troupe may be most well-known for some serious family drama involving the marriage Farrow's now ex-husband Woody Allen and her adopted daughter Soon-Yi Previn, but being a part of the family nonetheless changed Thaddeus' life. In a November 2013 profile of his mother, Vanity Fair reported that Thaddeus was a car mechanic studying to become a police officer. He had been abandoned at a railway station in Calcutta because he was a paraplegic, and endured other children throwing rocks at him previously as well, after being chained to a post at an orphanage. At the time, he walked with crutches or used a wheelchair to get around, and way able to use a skateboard to slide himself underneath cars to fix them.
"It was scary to be brought to a world of people whose language I did not understand, with different skin colors," he told the magazine's Maureen Orth. "The fact that everyone loved me was a new experience, overwhelming at first."
Farrow is the mother of 14 children, 10 of whom are adopted. Each of the surviving children are now adults.
Thaddeus is, sadly, not the first of the 71-year-old Hollywood star's children to die at a tragically young age: In 2000, The New York Daily News reported that the daughter Farrow had adopted from Vietnam in 1992 had died at 19 from a heart ailment. Farrow adopted Tam Farrow, who was blind, after her divorce from director Woody Allen. And nine years later, on Christmas Day 2009, another of Farrow's adopted daughters died: According to People, Lark Song died at 35 of an undisclosed illness, leaving behind four children of her own. Farrow had adopted Song in 1973 with then-husband André Previn. She had been orphaned by the Vietnam War.
According to The Hollywood Reporter, Thaddeus died at Danbury Hospital in Connecticut at about 2:30 p.m. ET Wednesday, a short time after law enforcement there discovered him inside of his car, suffering from a life-threatening injury. Although the family has not yet revealed his exact cause of death, authorities said that no foul play is suspected.