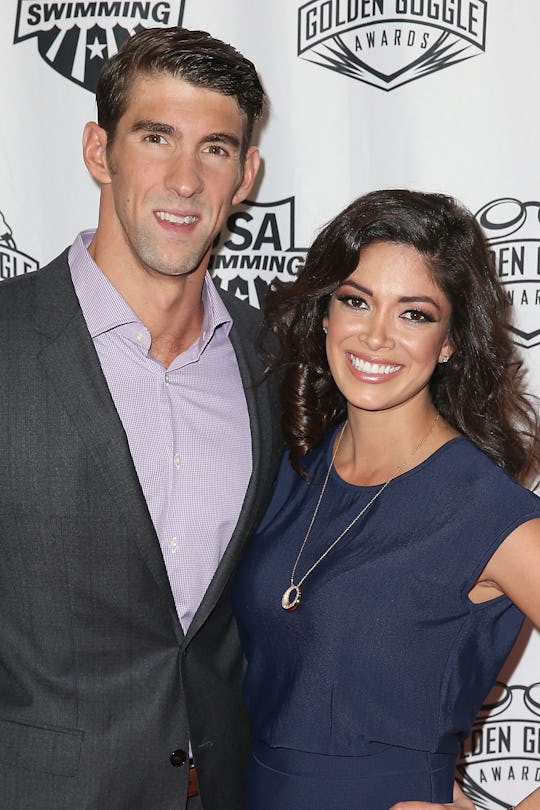 Joe Scarnici/Getty Images Sport/Getty Images
How Did Michael Phelps and Nicole Johnson Meet? The Two Were On & Off For Seven Years
The Summer Olympics are almost here. As the world gets closer and closer to Rio 2016 each day — the harder the athletes train to win more medals of their own. Michael Phelps is one of the many gold medalists who will return to the Olympics. And as I continue to hear more of Phelps' name in the news, I can't help but wonder about some of the more personal details about his life —things like how did Michael Phelps and Nicole Johnson meet?
Phelps and Johnson, a former Miss. California, first announced their engagement back in February of 2015 — making the adorable announcement on Instagram for all of the world to see. Nine months later, they announced that they were pregnant with a baby boy. Phelps fans didn't see the news coming, leading some to wonder who Nicole Johnson even was. But as it turns out, Johnson and Phelps had been dating quite some time before announcing their engagement.
In fact, Phelps and Johnson had been dating on and off for seven years. I know, thats a pretty long time. But despite their on again, off again nature, Phelps kept on coming back to Johnson for a reason. Phelps told USA Today, "I said to a couple of my friends if I ever had the chance to get her back, that would be it. She was the one I loved the most." So sweet.
So how was Phelps able to land himself a former beauty queen? Unfortunately, there is no official word from either Phelps or Johnson on how or where exactly they met in 2007. Instead, in interviews, Phelps takes the time to talk about the timing of their relationship and how it ended up working out — rather than dwelling on the past about how they met and connected the first time around. Telling USA Today:
Her and I have been on and off for eight years. It's been a long time. We've been through a lot. But I love her to death. We've been able to grow as a couple through everything we've been through, the positive changes I've made in my life. We're at a completely different level than we've ever been in our past relationships.
According to The Daily Mail, the two had last broken up in 2012, before rekindling their romance for the last — and most permanent time in 2014. And you can tell that their relationship is definitely built to last. The couple look absolutely radiant and happy together in every image taken of them.
While I can't say for sure how Phelps and Johnson met, I can say that their relationship seems pretty solid and the two are very much in love. And at the end of the day, that is really the most important detail about a couple's relationship.