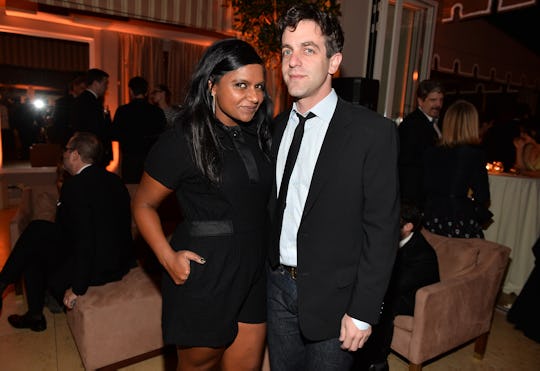 Alberto E. Rodriguez/Getty Images Entertainment/Getty Images
The Story Of How Mindy Kaling & B.J. Novak Met Will Give You All The Feels
News broke late Monday afternoon that would make every The Office fan the world over giddy with excitement. Yes, Kelly Kapoor fans, Mindy Kaling is pregnant with her first child. This isn't a Kapoor tactic to keep her forever-love, Ryan Howard, by her side: this is the real deal. And, as one can imagine, The Office fans (yours truly included) are silently and not-so-silently hoping B.J. Novak, Kaling's best friend, writer, and actor who played Howard on The Office, is somehow involved in her pregnancy. So, how did Mindy Kaling and B.J. Novak meet? Turns out, the BFFs have a sweet past that will continue to make us fans swoon long after the excitement of Kaling's pregnancy dies down (so, like, maybe in 50 years or so).
According to E! News, the two met for the first time when they were 24-year-old writers on the hit show The Office. A love for comedy and an affinity for the written word isn't all the two friends have in common, though. In fact, and according to Boston Magazine, they're both Boston-bred, Ivy League-educated badasses enjoying a close friendship that Kaling once described as "weird as hell" during an interview for a cover feature of InStyle.
While the two did try dating for a short period of time, they're now described as "amicable exes and best friends," who have publicly and without exception supported one another both on- and off-screen. For example, when Novak published his children's book The Book With No Pictures in September of 2014, Kaling immediately tweeted out a picture of herself with the book, writing "No one bother me. I'm reading it all day."
That doesn't mean the end of their romantic relationship and the start of their lifelong friendship was all kittens and rainbows, though. During an interview with Howard Stern on his SiriusXM radio show in 2014, Kaling spilled a few post-relationship details, saying Novak actually dumped her "years and years ago." The Mindy Project star said she was "so sad" when they broke up, but made a point to say it was sadness, and not anger, she experienced in the wake of her real-life Kelly and Ryan relationship.
"That was the hottest I've ever looked because I stopped eating. When I get depressed I stop eating. So, I was miserable and so beautiful. I remember waking up, barely able to get out of bed and we worked together but I didn't care. I had no make up on... I was real miserable."
The Office is now over, so no longer can us Kaling and Novak fans live in an alternative universe in which the two most selfish people known to man are simultaneously the odd couple you cheer on with reckless abandon. We can, however, bask in the beauty that is the real-life friendship between Mindy Kaling and B.J. Novak, because it truly is the ultimate in #FriendshipGoals. Through all that they've been through as coworkers, lovers, and friends, Kaling's pregnancy is sure to usher in another exciting change for these BFFs, regardless of how Novak may or may not be involved.
After all, Ryan Howard gave his baby a mild allergic reaction to be with Kelly Kapoor, so anything is possible.