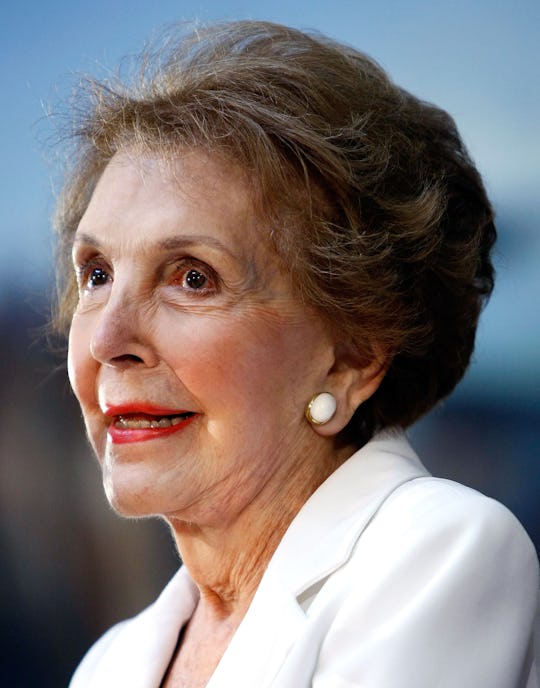 Win McNamee/Getty Images News/Getty Images
How Did Nancy Reagan Die? The Former First Lady Had Been Suffering From Poor Health For A While
On Sunday, one of the United States' most influential first ladies passed away. Although initial reports were not specific as to how Nancy Reagan had died, by late Sunday morning, a spokeswoman had confirmed that Mrs. Reagan had succumbed to congestive heart failure, after several years of declining health. According to The New York Times, she passed at her home in Bel-Air, Los Angeles, and will be buried next to her husband, former president Ronald Reagan, at the Ronald Reagan Presidential Library in Simi Valley, California. Details of the funerals have not yet been released.
Nancy Reagan's stepson, Michael Reagan, confirmed the news on Twitter Sunday morning, writing, "I am saddened by the passing of my step mother Nancy Reagan... She is once again with the man she loved. God Bless..."
President Obama and first lady Michelle Obama expressed condolences after hearing of Mrs. Reagan's passing as well, saying she had "redefined the role" of being first lady. "Nancy Reagan once wrote that nothing could prepare you for living in the White House. She was right, of course," the Obamas wrote in a statement. "But we had a head start, because we were fortunate to benefit from her proud example, and her warm and generous advice."
Reagan certainly did carry a lot of influence during her eight years in the White House, and was known for becoming a close aide to her husband and influencing many decisions behind the scenes. The late Michael Deaver, one of Ronald Reagan's closest aides, once said that "without Nancy, there would have been no Governor Reagan, no President Reagan," according to The Mirror. Nancy Reagan convinced her husband to apologize to the nation following the controversial Iran-contra deal, according to The New York Times, and many considered her a moderating force in the presidency.
Reagan was also known for several campaigns during her husband's time as both governor and president. She campaigned strongly against alcohol and drug abuse, and became the spokesperson for the "Just Say No" campaign (which children hear to this day). She was also a supporter of the Foster Grandparents program, according to CNN, which paired senior citizen with children who needed help, allowing seniors to stay active in their community and assisting children from troubled backgrounds.
In 1987, Reagan underwent a modified radical mastectomy after being diagnosed with breast cancer, which drew criticism at the time for being invasive (but now, reminds me of Angelina Jolie's preventative mastectomy), according to The Washington Post. Only several years later, in 1994, Ronald Reagan announced that he was suffering from Alzheimer's disease, and soon after, Nancy Reagan became an outspoken supporter of Alzheimer's research. She also broke away from the more conservative views of the Republican party at the time and began advocating for embryonic stem cell research, according to The Chicago Tribune.
Reagan left behind an important legacy for future first ladies and women in general. One quote in particular, noted by The International Business Times this weekend, probably sums up her life philosophy and legacy best:
You learn something out of everything, and you come to realize more than ever that we're all here for a certain space of time, and, and then it's going to be over, and you better make this count.
Mrs. Reagan is survived by her two children, Patti and Ron.