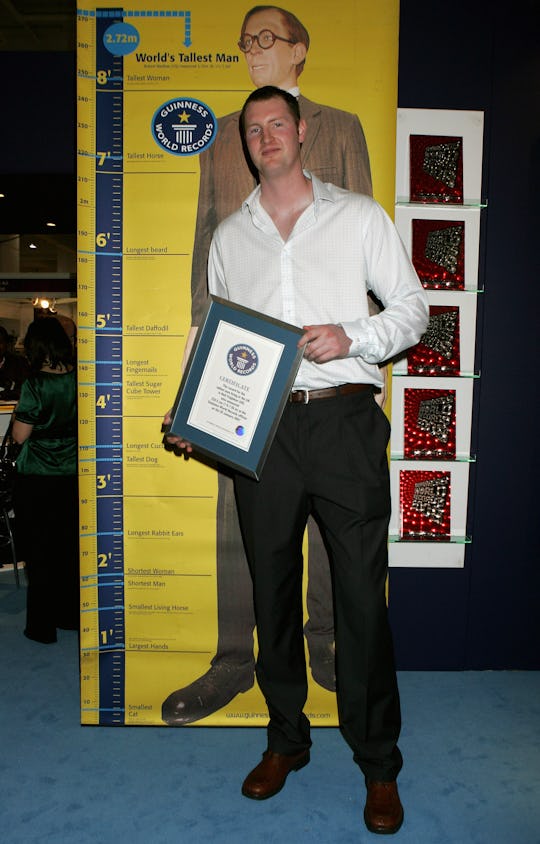 Chris Jackson/Getty Images Entertainment/Getty Images
Neil Fingleton Reportedly Dies At 36
According to The Guardian, actor Neil Fingleton died on Saturday. The Game of Thrones and X-Men: First Class star's death was reported by the Tall Persons Club on Facebook, where the group mourned the death of the United Kingdom's tallest man. Considering that Fingleton was only 36 years old and at the height of his career, many are wondering: How did Neil Fingleton die? Reports claim he passed away from heart failure.
Romper reached out to Fingleton's representative, but did not hear back immediately. On Sunday, however, a statement on the Tall Persons Club's Facebook page read:
Sadly it has come to our attention that Neil Fingleton Britain's Tallest man passed away on Saturday. ... Our thoughts and condolences go out to his family.
Since then, fans have begun posting tributes on social media, remembering Fingleton's history as both a basketball player and actor. According to Variety, Fingleton began his career as a professional basketball player who played for the University of North Carolina and was drafted by the National Basketball Association's development league. After an injury in 2007, however, he transitioned into acting, where he saw widespread success in Avengers: Age of Ultron and X-Men: First Class. He also acted in shows such as Game of Thrones, in which he played Mag the Mighty, and Doctor Who, where he took on the role of the villainous Fisher King.
Since his death was first reported on, tributes have been rolling in on social media.
Coworkers also shared their condolences on social media. Ian Whyte, the actor who played the giant Wun Wun on Game of Thrones, wrote on Twitter: "Very sad to hear of the tragic passing of Neil Fingleton. He followed his dreams. Rest in peace."
Fingleton endured some grueling days while working on fantasy sets — he had to wake up early to have prosthetics fitted and plaster applied — but ultimately, he loved the work. Telling Thrillist about his 3 a.m. facial prosthetic fittings, Fingleton said: "It can be incredibly frustrating at times. You go to get some food, and all of a sudden you're eating your beard instead of your sandwich." However, he clearly thought the frustration was worth it. "When you see the finished product, you just think, 'Yeah, that's what it's all about, really,'" he said.
Fingleton was also proud of his 7'7" height. "My parents always taught me to appreciate my uniqueness," he told the Mirror in 2009. "My height has given me a way into the entertainment industry, which is where I want to be."
Thanks for years of entertainment and wise words, Fingleton. Taken far too young, Fingleton will clearly be missed by his coworkers, friends, and fans from around the world.