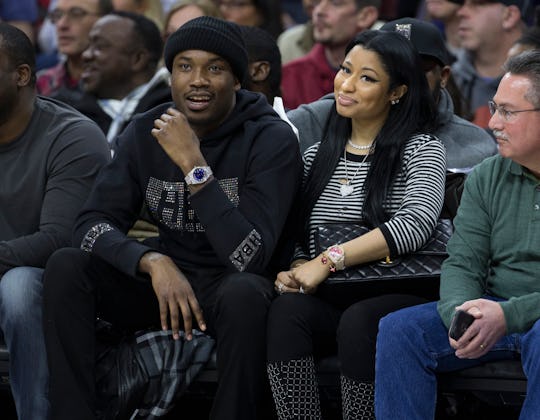 Mitchell Leff/Getty Images
How Did Nicki Minaj and Meek Mill Meet? They Worked Together Before They Played Together
So, when I'm trying to figure out how Nicki Minaj and Meek Mill met, it's not because I want to pry too hard into anyone's private life. I try to just let celebrities live. I only want to know how Nicki Minaj met her fiancé because it's legitimately important research for a goal that's very dear to my heart: I kinda want to be Nicki Minaj. Which is a really cool goal to have considering I have exactly...nothing I need in order to successfully pull this off. Other than being more-than-reasonably good at Nicki's verse on "Monster," I can't rap at all; I have no Chanel bags; I look like sh*t when I wear pink; I'm bad at shutting down my detractors with only three words. The only thing I stand a chance at doing (maybe) is locking down a cute dude, so I'm gonna need to know their story.
Well, it's not like Nicki has been sending me her diary entries (yet; we're future BFFs) so the best thing we can do to trace the timeline of their relationship via the primary instrument of celebrity stalking we have: Instagram. While it's unclear whether or not the pair were officially ~a thing~ at the time, it looks like they first met when Meek Mill appeared on two tracks on Nicki's 2014 album The Pinkprint: "Buy a Heart" and "Big Daddy."
The two also were definitely acquainted, if not an item, in the latter half of 2013, when Nicki appeared on the track and in the video for Meek's "I B On Dat."
From there, the two continued to keep whatever they had (or didn't have) going on tightly to themselves. Despite routinely showing up in each other's Instagram feeds, Minaj continued insisting that she and Meek Mill were only friends as recently as late 2014. This, despite the fact that this photo of Meek Mill kissing Nicki Minaj had everyone claiming that they were definitely more than friends and collaborative partners:
Of course, the rest of 2015 became the Nicki and Meek show on both of their social media profiles, and thank God, because they're almost too cute together to deal with (except that we totally can deal with their cuteness, and want as much as it as possible, please). By late 2015, there was no question about the pair's romantic status that's to the iceberg hanging out on Minaj's hand. Like, the Titanic woke up from the depths of the Atlantic like, "Yes, I see that you two are a romantic couple indeed."
Well, there you have it.