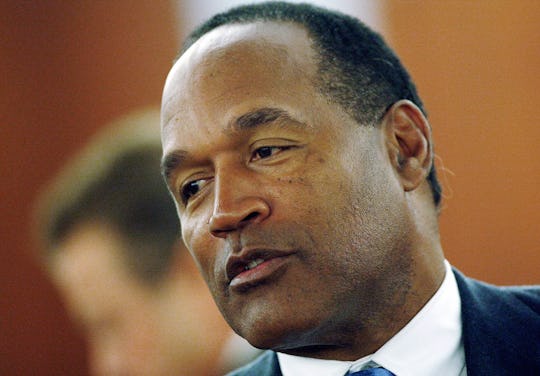 AFP/Getty Images
How Did O.J. Simpson and Nicole Brown Simpson Meet? Their Relationship Was Allegedly A Rocky One
Now that The People v. O.J. Simpson: American Crime Story is on FX, public interest in "The Trial of the Century" may be at its highest since 1994. The show delves deep into the trial of former NFL player O.J. Simpson who was charged in the murders of ex-wife Nicole Brown Simpson and her friend, Ronald Goldman. But how did Simpson and Nicole Brown Simpson meet?
According to Biography, the two connected for the first time while she was at work. Brown Simpson was a native of West Germany, Bio reported; her family moved to Garden Grove, California when she was a young girl. As a teenager, she took a job at Beverly Hills' Daisy club where she met Simpson. After his divorce in 1979, the two were free to pursue a relationship. The couple got married in 1985 and went on to have two children together, Sydney and Justin.
Though Brown Simpson seemed to have a glamorous life, reportedly, all was not well. After her death, details emerged about Simpson's alleged abusive behavior toward his wife. Simpson's current legal team did not immediately respond to Romper's request for comment regarding the allegations. In a February 2016 interview with People, Kris Jenner acknowledged that she missed warning signs that her friend was in trouble. (Jenner's then-husband, defense attorney Robert Kardashian, was part of the "Dream Team" who represented Simpson during the murder trial.)
Jenner told reporters that, to that day, she felt guilty for not knowing enough to have prevented a tragedy. "I saw all the pictures and the police reports, and I heard the tapes of her calling 911, and that was stuff I didn't know anything about [at the time]," Jenner said. "It's wild that she kept that from us. So I feel bad. I beat myself up because I feel like I wasn't paying attention. Like, How did I miss this?"
It can be easy for true crime TV shows to gloss over personal histories and focus on the trial. Though American Crime Story promises to provide an in-depth look at the legal proceedings, it may also provide a better understanding of Simpson and Brown Simpson's relationship. In the series, Cuba Gooding Jr. plays Simpson while Kelly Dowdle portrays Brown Simpson, according to IMDB. Dowdle had a series of smaller roles in movies including Big Momma's House 2 and Underbelly. On IMDB, she's listed as appearing in six episodes of American Crime Story, suggesting that audiences will get to see quite a bit of backstory.
American Crime Story airs Tuesdays at 10 p.m. on FX. So make sure to tune in if you, like so many others, are looking for answers about the tragic death of Nicole Brown Simpson.