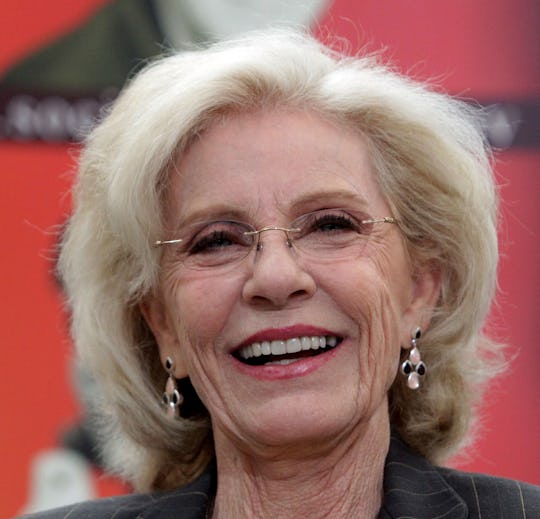 Frederick M. Brown/Getty Images Entertainment/Getty Images
How Did Patty Duke Die? The Legendary Actress Will Be Missed
Patty Duke, the legendary actress and child star of movies including The Miracle Worker and the The Patty Duke Show has died. She was 69 years old. So of course her fans want to know, how did Patty Duke die?
The actress, whose real name was Anna Pearce, died of sepsis from a ruptured intestine, according to her spokesman, Mitchell Stubbs.
"She was a wife, a mother, a grandmother, a friend, a mental health advocate and a cultural icon," Stubbs said in a statement on Tuesday. "She will be greatly missed."
Actor Sean Astin, who is Duke's son, told TMZ her passing is a relief, since she had been in a lot of pain near the end of her life. Symptoms of a perforated intestine, according the U.S. National Library of Medicine, include "severe abdominal pain," nausea, and vomiting. Her family also issued a statement saying, "This morning, our beloved wife, mother, matriarch and exquisite artist, humanitarian, and champion for mental health, Anna Patty Duke Pearce, closed her eyes, quieted her pain and ascended to a beautiful place."
Duke led a colorful life that included winning an Oscar for her role in "The Miracle Worker" and a notorious personal life, which included four marriages and several alleged affairs. Duke's marriage to her current husband, a named Michael Pearce lasted more than 30 years. The couple married in 1986 and moved on to a quiet life in Idaho with their son, Kevin where she lived until her death.
As news of her passing spread on Tuesday, fans of her work both in Hollywood and for her advocacy on behalf of mental health issues, began posting tributes to social media:
Here's a nod to her role playing "identical cousins" with completely opposite personalities on The Patty Duke Show.
One fan posted a clip from 2006, featuring Patty Duke talking about her battle with bi-polar disorder, shared by CSPAN after her death. Duke famously wrote two very well-received books on the topic including, Brilliant Madness and Call Me Anna:
In the video Duke talked about how well she was surviving with a mental illness that she referred to as a "life-threatening disease." Duke was a survivor and fought fiercely so others could get the mental health treatment they needed to cope with bipolar disorder.
Her most recent social media communications were loving and seemed serene. In one, she apologized for being "absent" lately.
Duke's very last tweet commemorated her 30th wedding anniversary with her husband.
A sad day indeed.