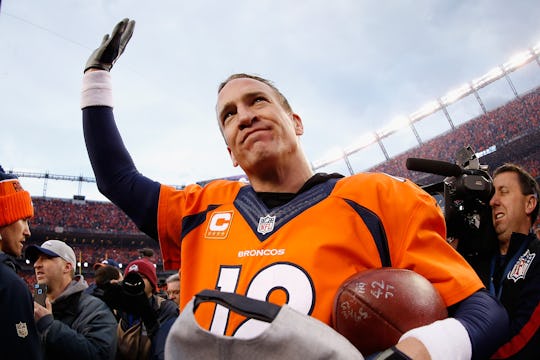 Christian Peterson/Getty Images Sport
How Did Peyton Manning & Ashley Thompson Meet? They Were (Almost) High School Sweethearts
NFL star Peyton Manning spends a great deal of time in the limelight, whether he's fighting it out with the Broncos on TV, starring in Papa John's commercials, or making appearances on Saturday Night Live. His wife, Ashley Thompson, seems to do the exact opposite, staying out of the spotlight as often as possible. So how did Manning and Thompson meet? They've known each other for a long time, and their story is kind of adorable.
According to The Heavy, Broncos quarterback Manning and Thompson met the summer before Manning's freshman year of college. Thompson's parents' next-door neighbor was hosting Peyton during a recruiting trip to the University of Tennessee (the neighbor had played football for Tennessee) and the neighbor decided to play matchmaker. Thinking Thompson and Manning might be a good fit, the neighbor introduced the two, and the rest is history.
Manning and Thompson have been married since St. Patrick's Day of 2001 — if you're wondering if she wore a green dress, no, she did not, and yes, I looked it up — making it a nearly 15-year marriage. They have two children, fraternal twins Mosley and Marshall, who were born in 2011. A video of them and their dad play-wrestling on a practice field went viral in 2014, when the tots ran out onto the field with open arms to roughhouse with Manning.
Manning and his kids aren't the only sports enthusiasts in the family, either. Thompson became a minority owner of the Memphis Grizzlies in 2012, according to the International Business Times. The NBA team is her hometown's basketball team, and she told the Denver Post, "As a native of Memphis, it was important to me that the Grizzlies remain in Tennessee and continue to have a positive impact on the community."
That's not to say Thompson isn't supportive of Manning's football career,though. After he had several neck injuries that ended his placement with the Indianapolis Colts, Peyton credited Thompson with getting him back in the game. "Ashley was the one that was saying, 'Peyton, you've got to try. You've got to try,'" Manning told Sports Illustrated, according to the IB Times:
I've got kids now. I had a peace about it. So I didn't feel like I had to play to get another win or a touchdown. But she's like, 'You've got to try.' So I was glad that she pushed me to do it. Once I did it, I was going at it, and then I started seeing a little bit of light there. So, yeah, she was the one who kind of pushed me through it.
With Manning heading into Super Bowl 50, hopefully we'll see the Manning-Thompson kiddos doing some pre-game tussling again.