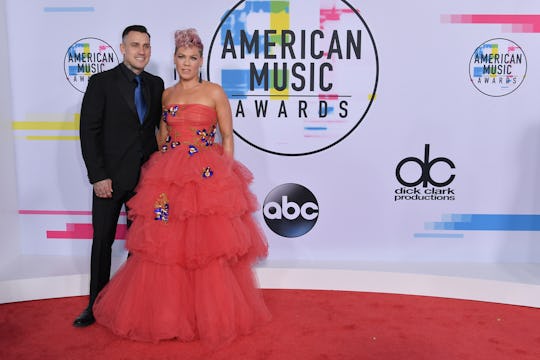 Neilson Barnard/Getty Images Entertainment/Getty Images
Pink & Carey Hart Are Stronger Than Ever After Many Years Together
Pink and her husband Carey Hart have had a relationship full of ups and downs, with very public breakups and reunions over the course of their years together. But how did it all begin? How did Pink and Carey Hart meet? The pair recently celebrated their eleventh anniversary, but their journey has definitely been a complicated one.
According to Rolling Stone, Pink and Hart began dating in 2001 after meeting at the Summer X Games. It seems they crossed paths briefly before Hart was in a crash that resulted in sixteen broken bones, after which Pink "swore she would never date a motocrosser." However, once they reconnected a few months later, they decided to give it a go. Hart told People that he felt an instant connection with Pink. "I knew within the first weeks after meeting her that I wanted to be with her for the rest of my life," he said.
Their first breakup came in 2003, not long after they got together, but by 2006 they were married. Popsugar reported that she proposed to him while he was racing at the Pro 250 by holding up a sign that read, "Will You Marry Me?" with the addendum "Serious!" underneath.
They separated again in 2008, but Pink insisted it was amicable, saying on her website, "This breakup is not about cheating, anger, or fighting. I know it sounds like cliché bullsh*t, but we are best friends and we will continue to be." Pink went on to say that she didn't know what the future held, "but mine and Carey's just might involve beach babies and sunshine one day. Just not right now."
It did soon enough, though. In 2009, Hart commented on their relationship in an interview with People, discussing the work they were putting into it to make sure things stayed on track. "We're rebuilding," he said. "Sometimes you have to take a couple of steps backwards to move forward."
Pink and Hart were back together shortly after and they welcomed their daughter Willow Sage Hart in 2011. Their son Jameson Moon Hart followed in 2016. It's been a whirlwind journey for the couple, but these days they seem to be doing well together. But that doesn't mean it's all easy, and Pink was candid about that in an interview with The Guardian in 2017. "There are moments where I look at [Hart] and he is the most thoughtful, logical, constant... he's like a rock," she said. "He's a good man. He's a good dad. He's just the kind of dad I thought he'd be and then some."
She continued, "And then I'll look at him and go: I've never liked you. There's nothing I like about you. We have nothing in common. I don't like any of the sh*t that you like. I don't ever wanna see you again. Then two weeks later I'm like, things are so good, you guys. Then you'll go through times when you haven't had sex in a year. Is this bed death? Is this the end of it? Do I want him? Does he want me? Monogamy is work! But you do the work and it's good again."
Pink and Hart may have had some difficulties, but Pink seems to have found happiness. In 2017, she told Us Weekly, "I honestly can't believe how responsible I am. All of a sudden I'm a soccer mom and doing the damn thing. No one would have guessed this for me. Honestly, I didn't realize that you could enjoy it so much."
After eleven years of redefining and reworking their relationship, it looks like Pink and Hart have settled into a situation that works for them.
Check out Romper's new video series, Romper's Doula Diaries:
Watch full episodes of Romper's Doula Diaries on Facebook Watch.