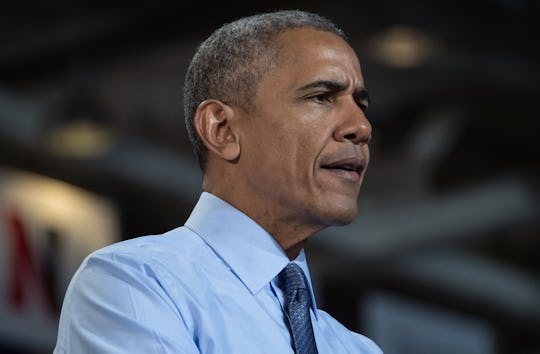 NICHOLAS KAMM/AFP/Getty Images
How Did President Obama React To Trump's Win? His Phone Call Shows A Civil Response
Following the news that Donald Trump would be named president-elect, many are wondering how prominent members of the left are reacting to the news. Primarily former Secretary of State Hillary Clinton, who chose not to speak to supporters in New York after conceding the win to the Celebrity Apprentice star. But as we wait for Clinton's reaction (which is expected later Wednesday morning), we got a taste of how Barack Obama responded to Trump's win thanks to a phone call the president delivered to his successor.
Just hours after voters got the shocking word that Trump had been elected and Clinton had conceded to the New York businessman after a hard-fought campaign, word came that Obama had touched base with Trump himself. Of all things to happen in the last 48 days, this was not altogether surprising — last week, Josh Earnest, White House Press Secretary, had mentioned to reporters that Obama would make time following the election should Trump clinch the win. Even if it seemed an unnecessary gesture at the time, thanks to early polls that skewed heavily in Clinton's favor.
As for how exactly Obama responded to Trump's win? Well, what else would you expect from Obama? He was gracious. According to a statement given to BuzzFeed News, Obama congratulated Trump, and is dedicated to "ensuring a smooth transition of power" come Inauguration Day Jan. 20, 2017.
It's certainly a call and meeting Obama wasn't hoping to have to make — the President had been heavily campaigning for Clinton, with even First Lady Michelle Obama doing her best to keep a Democrat in the White House.
But he's not the only one turning to Trump following his hour of victory. In a statement publicly congratulating the president-elect, Canadian Prime Minister Justin Trudeau vowed to work closely with Trump. And, unsurprisingly, Trump fielded kind words from Russian President Vladimir Putin, a man whose leadership he has controversially praised. Putin said in his telegram that the victory was an opportunity to develop "a constructive dialogue between Moscow and Washington on the principles of equality, mutual respect and real consideration for each other's position."
"Mutual respect" was something definitely lacking from this presidential election, which only seemed to showcase a deep divide between not only the candidates, but the country too. Is a peaceful, effective transition between presidents possible? With Obama, one can only hope.