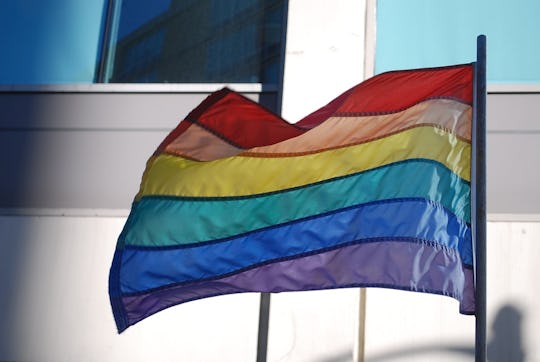 Pixabay
The History Of Pride Month
As June arrives, you can expect to see the colors of the rainbow flag flying just about everywhere. That's because June is Pride Month, a time when events are held all across the country to celebrate and support the LGBTQ community. So how did Pride Month begin? It has its origins in a landmark moment in U.S. history and the LGBT rights movement.
On June 28, 1969, patrons of a New York City gay bar called the Stonewall Inn clashed with police in what became known as the Stonewall Riots, according to the Leadership Conference on Civil and Human Rights. At the time, homosexuality was considered a crime and gay-friendly establishments like the Stonewall Inn were frequently raided. Growing tired of the harassment, the bar's customers decided to stand up to police on that historic night. Hundreds began to riot, and the protest grew even larger the next night. Demonstrations erupted all over the city over the next several days, sparking a movement that continues to this day.
According to the History Channel, the riots are considered the first major protest for LGBTQ rights, and led to the formation of many LGBTQ rights organizations. Just a year later, the first gay pride marches commemorating the Stonewall Riots took place in cities like New York, Chicago, Los Angeles, and San Francisco.
According to Diversity Inc, some other seminal moments in LGBT history would follow in the next few years. In 1973, the American Psychiatric Association declassified homosexuality as a mental illness, a move aimed at breaking stigmas and helping LGBTQ men and women find greater acceptance. In 1978, the iconic rainbow flag was first used to symbolize gay pride. (It's now become so closely associated with the LGBTQ movement that even rainbow-colored Skittles candies have turned all white around Pride Month as a show of respect according to Ad Week.)
In June of 2000, President Bill Clinton proclaimed the first ever Gay and Lesbian Pride month according to the Library of Congress. Its purpose was to recognize "the joys and sorrows that the gay and lesbian movement has witnessed and the work that remains to be done... and celebrate the progress we have made in creating a society more inclusive and accepting of gays and lesbians." In 2009, President Barack Obama expanded on the name to be more inclusive, proclaiming June Lesbian, Gay, Bisexual and Transgender Pride Month.
While Pride Month may seem to be all about the fun and festivities, it's important to recognize and remember that its roots are in something much more solemn and historic.