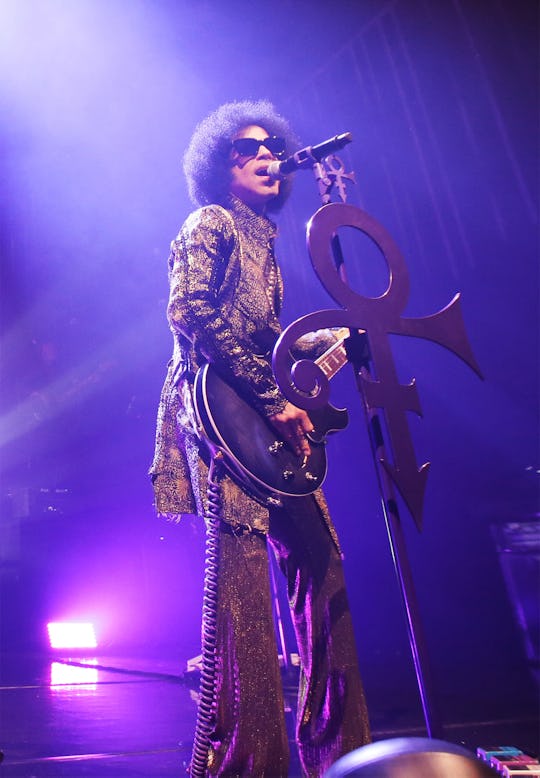 Chelsea Lauren/Getty Images Entertainment/Getty Images
How Did Prince Die? Reports Give Few Details
It's a sad day. Prince, the musician who started a Purple revolution, has died at 57. How did Prince die? Recent reports said the pop legend had been suffering from the flu over the past week or so, but nothing to indicate his life might be in danger.
Update: The Associated Press reported Thursday afternoon that deputies called to Prince's studio and, upon arriving at his home, found him unresponsive in an elevator. CPR was ineffective.
Update, 8:15 p.m. ET: TMZ claimed in a report on Thursday evening that Prince died of a potential drug overdose, after the singer refused treatment for an opiate overdose earlier in the week. The outlet claimed that "Prince was rushed to a hospital and doctors gave him a 'save shot' ... typically administered to counteract the effects of an opiate," according to multiple sources. Prince's publicist has not yet confirmed the claims.
On April 15, Prince's private jet was forced to make a landing for a medical emergency. The incident didn't seem like a big deal. In fact, Prince showed up at a concert the next day to reassure concerned fans he was doing fine following having to cancel a couple of shows due to "health concerns." Apparently that wasn't the case. So, did Prince really think his health was fine or did he know he was battling something life threatening? Fans might never really know.
So far, TMZ reported that Prince's body was found at his "compound" in Minnesota, called Paisley Park. Multiple sources and news outlets have since confirmed the terribly sad news.
Prince, whose government name was Prince Rogers Nelson released his breakthrough album "1999" which still holds up as a party staple. Over his incredible 4-decade career Prince won 7 Grammy Awards, sold more than 100 million records and even won an Oscar for "Best Original Song Score" in 1985 for Purple Rain.
In 2007, Prince brought down the Super Bowl halftime show in what was one of the greatest performances of his career. Heck, it was one of the most incredible performances of any career, for that matter. His performance of Purple Rain in the middle of a downpour will always be one of his most epic moments. And that's how I'd like to remember him.
Take a look. "Purple Rain" starts at about 5 minutes into the video.
I'm not crying, you're crying. Maybe it's the doves.
Here's Prince on March 3 attending a Golden State Warriors Game in full Prince effect, complete with cane. At the time it seemed like another smooth fashion statement, but could he have needed it?
Fans like me have been hit hard by the news of his death and just as it always happens when we lose one of our icons, we're reminded of just how many times he captured our attention and touched our hearts.
As for the details surrounding his death, more are sure to be made public in the hours and days ahead. In the meantime, we all remember Prince and the music he gave the world. Rest in peace.