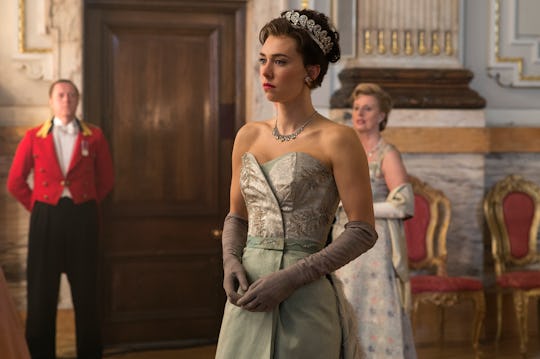 Alex Bailey/Netflix
'The Crown' Season 2 Dives Back Into Princess Margaret's Love Life
Queen Elizabeth's glamorous younger sister Princess Margaret is perhaps not as well known today as during her heyday in the middle of the century, but in the '40s and '50s she made a huge splash in public, particularly when it came to her love life. After her failed romance with Peter Townsend, she met the other love of her life, Antony Armstrong-Jones. But how did Princess Margaret and Tony meet in real life? The Crown on Netflix took a rather intimate look at how these two came into each other's lives. Warning: spoilers for Episode 4 ahead!
Margaret begins the episode feeling rather lonely, watching a joyful wedding from the periphery of the ballroom with an old family friend. When he surprises her by suggesting they marry each other, purely for practical reasons, she hesitantly accepts. That is, until he turns out to be the worst, gets himself into a duel, and bails on her when they were supposed to announce their engagement. Enter a suave and debonair photographer played by Matthew Goode, who's just suggestive enough to attract interest, but not so suggestive that he might put Margaret (or the audience) off. Most importantly, he tries to see who the princess really is, not just as a royal figure.
Taking all of its plot cues from real life, The Crown generally strives for accuracy in its depiction of the lives of the royal family. This story is no exception. Though the precise dialogue and situations of the meeting are, of course, fiction, the basics of the story appear to be true to life. When Margaret was 28, she was known to be highly glamorous and highly spirited. The show depicts Margaret as being rather bored and restless (as she very well may have been), when she goes with her lady-in-waiting, Lady Elizabeth Cavendish, to a party. In real life, this is how Margaret first met Antony Armstrong-Jones as well, though their next meeting wouldn't come until a few months later.
According to a profile in Vanity Fair, when Margaret was asked to sit for a photograph by one of her admirers, they arranged for it to be with Armstrong-Jones. In The Crown, she's exhausted by the same-old pictures the family photographer Cecil Beaton always took of her. Armstrong-Jones reportedly treated her just as he would any other sitter, rather than with the awed deference she was used to being treated. "With the utmost politeness, he made her change her clothes, her jewelry, and her pose as if she were any other sitter, at the same time chatting away with his mixture of jokes, gossip about mutual friends, and stories of the theatrical luminaries he had photographed," the profile alleges.
His attitude charmed the princess, and she began inviting him out with her, as well as making secret visits to his studio and his apartment, where he would make the two of them romantic dinners. After a few years of semi-clandestine meetings, Armstrong-Jones was introduced to the Queen Mother, who was apparently taken with the young man. The fact that he was a commoner appears not to have mattered to her, or to Margaret's sister, Queen Elizabeth. The two were married and Armstrong-Jones became Lord Snowdon.
Sadly, princess or not, Margaret's life was no fairytale. The marriage was plagued with problems from the very beginning. The couple eventually divorced in 1978 — the first royal divorce since Henry VIII invented the concept in the 16th century. However, the two remained good friends. When Lord Snowdon died, the Queen expressed herself "saddened" by the news. So regardless of how things ended or why, these two clearly cared about each other and became an important part of each other's lives.
Check out Romper's new video series, Romper's Doula Diaries:
Watch full episodes of Romper's Doula Diaries on Facebook Watch.