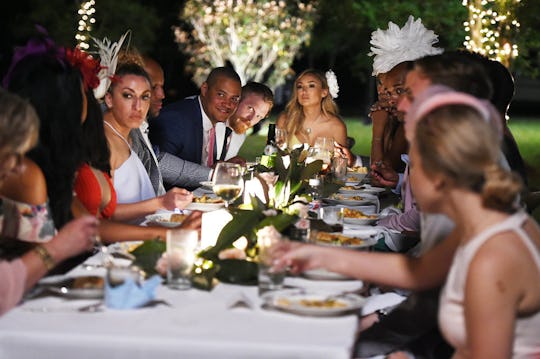 Erika Goldring/Bravo
Here's How Reagan & Jeff Charleston From 'Southern Charm New Orleans' Met
One of the standout couples of Bravo's new show, Southern Charm New Orleans, is obviously Jeff Charleston and Reagan. From the very beginning, it seemed like a lot of action was going to center around the power couple. So how did Reagan and Jeff Charleston from Southern Charm New Orleans meet to begin with? They're very fun to watch.
Jeff is sort of Big Easy royalty even though he didn't grow up there. But he was a defensive end for the New Orleans Saints and has a Super Bowl ring to show for it, so he has to be beloved in town. Reagan is also a fixture in the city as well. She's a designer with her own line of jewelry and her family is credited with the creation of the Sazerac, the state drink of Louisiana. According to InTheNOLA.com, the couple met at a Monday Night Football party back in 2009 and it was love at first sight. They told the outlet that they went to a Charlotte Hornets and New Orleans Pelicans game for their first date, and then had dinner at the Italian Barrel in the French Quarter. Romantic, right?
According to Entertainment Tonight, the couple married in 2012 and don't have any kids. It doesn't sound like they're planning on having children anytime soon, as Jeff mentions that he loves the couples' dogs as if they were children in one of the promos for the show. But the couple has a lot of other things on their plate to dedicate their time to.
Reagan launched her jewelry line in 2012, which is the same year she and Jeff got married, so she's been busy running her own business. She's also in her third year of law school at Loyola University, so expect some her stress to spill out into the plot lines of the show. Jeff, meanwhile, is reportedly trying to figure out what some of his next steps should be after leaving the NFL, according to his Bravo bio. Reagan told Entertainment Tonight that she likes keeping busy, despite everything she and her husband have going on:
I wear many hats. I'm in my third year of law school. I'm graduating, I walk in May. I have loved law school, every second of it. I'm also a jewelry designer, I'm an artist. So, those things are, you think, polar opposites. But I think I've excelled in school because I've learned how to utilize that creative side of my brain that I've used for so many years with my jewelry business.
Reagan actually lived in Charleston for a bit and the couple knows Whitney Sudler-Smith from the original Southern Charm (he is also an executive producer for the franchise). Reagan added in the same ET interview, "We love Whitney. It's such a wonderful group of people, we're stepping into the Southern Charm family and it's just so welcoming."
She added that their spinoff is just as "funny and honest" as the original, and that she and her husband are at the heart of it. She told People that they have an "unorthodox approach" to marriage, so viewers will have to wait and see what that means exactly.
Much like the original Southern Charm, expect a lot of booze. Reagan told People that she comes from a drinking family. "It's in the blood," she added, so the parties are definitely going to be must-see-TV. But what else would you expect from a crew from New Orleans? This is where Mardi Gras goes down, after all.
Reagan told ET that she and her husband are stoked to be part of the new cast and share their lives with the world. The designer and future lawyer said:
I think that my group of friends, we're just so much fun. We have exciting, diverse lives. Very different. We're into so many different things, all of us … We just come from so many different backgrounds, and we're constantly involved in so many different things that you wouldn't necessarily expect that, why not reality TV?
Bravo fans might not know what hit them with this new Southern Charm crew. But Reagan and Jeff definitely seem to know how to hold it down.
Check out Romper's new video series, Romper's Doula Diaries:
Watch full episodes of Romper's Doula Diaries on Facebook Watch.