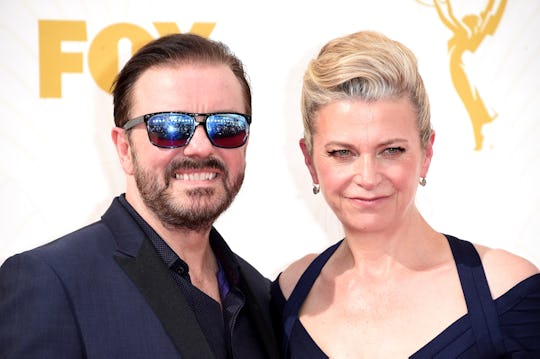 How Did Ricky Gervais & Jane Fallon Meet? The 2016 Golden Globes Host & The Best-Selling Author Go Way Back
British funnyman and Extras star Ricky Gervais is set to host the Golden Globes for the fourth time on January 10, which means we can all look forward to a hilariously good show. I'm sure the crowd will be full of impressive people — it is the Golden Globes, after all — but there's one person who will definitely be in attendance: his long-time girlfriend, Jane Fallon. According to The Daily Mail, Ricky Gervais and Jane Fallon met at University College London (UCL) in 1982, and the two have been going fairly strong ever since. Fallon is the author of five best-selling books, Skeletons, Getting Rid of Matthew, Got You Back, Foursome, and The Ugly Sister
The couple now lives in Hampstead, but the two met at UCL while Gervais was studying philosophy, according to W Magazine. A TV producer and novelist, Fallon studied history at UCL around the same time, and that's when the twosome began dating. They moved in together shortly after finishing college and have co-habited since. Over 30 years together is no small feat, but the comedian and novelist have remained committed. They never married, but according to The Daily Telegraph, Gervais never worried about the distinction.
Said Gervais:
We are married in everything but the ceremony. We share everything and everything is in both names. We've lived together for 29 years — how are we not married except in the eyes of God?
The couple also chose to forgo parenthood, which was a mutual decision — one which they've been asked about time and time again. "It's a difficult world and you shouldn't have kids unless you really want them," Fallon told The Nottingham Post in 2008.
Gervais spoke to The Telegraph about the parenting decision as well, admitting, "One good reason I don't want [kids] is that I don't think I'd sleep at night. Before this interview I had to check twice that I hadn't left the doors to the pool open because I was worried the cat would go through them and drown. So with a child, I'd just be stood over it, making sure it was still breathing." When it comes to the couple's cat, Ollie, however, Gervais said the feline is not their "child." As he told The Telegraph: "Well no. I'm not mental."
With Gervais hosting the Golden Globes and Fallon publishing her new book, Strictly Between Us on January 14, it's looking like a busy January for the pair. The rest of the year is looking good, too: Gervais is currently filming Special Correspondents and Life on the Road, and according to IMDB, release dates are slated for 2016.
Image: Jason Merritt/Getty Images