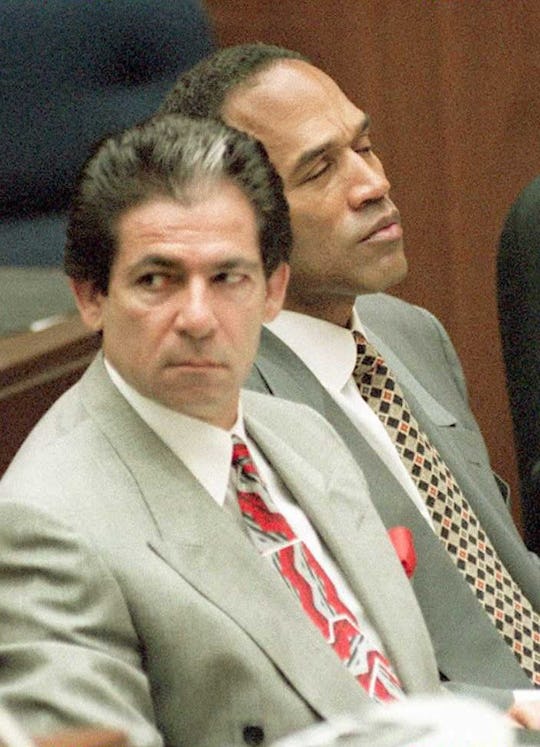 Vince Bucci/AFP/Getty Images
How Did Robert Kardashian Die? The Family Patriarch's Death Was Unexpected
By now, we all know the Kardashians. Hell, maybe you're even Keeping Up with the Kardashians. If you follow the news in the least bit, you are probably familiar with the fact that Robert Kardashian died some years back, leaving his family behind (although they did very well for themselves). So, how did Robert Kardashian die? On The People v. O.J. Simpson, Robert Kardashian played a pivotal role in the trial as a friend and supporter of Simpson, even though it appears on the show that his confidence in his friend was shaky — at best — by the end of the trial.
In Sept. 2003, Kardashian died in his home from esophageal cancer. The IB Times reports that he didn't battle long with the disease, noting he was diagnosed only eight weeks prior to his death. According to family, Kardashian didn't have a family history of throat cancer, which Khloe Kardashian mentioned in an episode of Kocktails with Khloe. InTouch reports that in a clip for an upcoming episode, Khloe seemed to allude to the fact that Kardashian's participation in the O.J. Simpson trial seems to have manifested into throat cancer.
"What I do respect is that [regardless of] what my dad did or didn't know, my dad would never betray his friend's trust. He never spoke about [the trial]. My dad also died of throat cancer which does not run in my family. My dad doesn't smoke, doesn't drink. I think holding in secrets [and] stress kills you! I feel like you manifest things, you have to think — I'm into symbolic situations."
While Khloe certainly doesn't blame the trial on her father's death, it is certainly an interesting correlation.
Simpson also had something to say about Kardashian's death. According to CNN, Simpson said "It's shocking when a friend close to you passes. I loved Bobby." He also notes that the two only had "one disagreement over the years," supposedly about a book Kardashian did for money (according to Simpson). Simpson said, "He explained to me, I understood it, and we put it aside."
Kardashian's name certainly took off after his death. While people are quick to dismiss the Kardashian's contribution to society, it's impossible to deny the fact that the family (whose fame certainly started long before Kim Kardashian's sex tape) has built an empire and a business from their name, which is surely something Kardashian would be proud of.