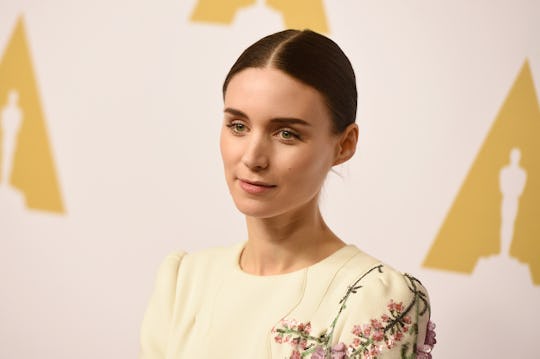 Kevin Winter/Getty Images Entertainment/Getty Images
How Did Rooney Mara & Charlie McDowell Meet? Mara Doesn't Like Sharing Private Details
The Oscars are nearly upon us, so it's time to brush up on who's who in celebrity couples, because they'll soon be walking, hand in hand, down the red carpet. This year, fans of the nominated Carol, will be thrilled to see Rooney Mara and Charlie McDowell during the glamorous night's events. But how did Rooney Mara and Charlie McDowell meet? Mara and McDowell have been together since 2010 when they met in Los Angeles.
Mara moved to the city in 2007 for her acting career, and, during those early days, she lived with her sister and actress Kate Mara. She's come a long way from her appearances on ER and her brief role in The Social Network as Mark Zuckerberg's ex-girlfriend. She was launched into the spotlight during her leading role as rebel hacker Lisbeth Salander in The Girl With The Dragon Tattoo. Besides establishing her as a force to be reckoned with, that film also helped her grab her first Oscar nomination. She's been in a number of blockbusters since then, including Her and Pan, for which she received fierce backlash for her "whitewashing" portrayal of Tiger Lily. She's since spoken out about the controversy, going so far as to say that she "regretted" taking the role. Though she's shown her solidarity for #OscarsSoWhite, Mara will still be in attendance for her Oscar-nominated supporting role in Carol.
Longtime boyfriend McDowell is also in the entertainment industry, but he's more of a behind-the-scenes type. He's written, directed, and produced films; he's been a cameraman, a production assistant, and even appeared on Curb Your Enthusiasm. Now, after all that, McDowell runs his own company called Cloudbreak Productions. Even though he comes from a British family, it's pretty clear that he was born and bred in Los Angeles. Given his passion for film and production, it's no doubt that he and Mara have a lot to talk about.
Though the two have been together for nearly six years, Mara and McDowell both are notorious for their secrecy. Mara does not relish making public appearances. When The Telegraph asked her about walking the red carpet, she said, "I don't think it is ever something you look forward to. For me, it is an irritating part of the job." She rarely gives interviews for fear that reporters will "reduce it to a sound bite." During that same interview with The Telegraph, the reporter inquired about her her love life with McDowell, and described the incident:
I hear her audibly wince at questions about her boyfriend — director Charlie McDowell — or previous relationships that might have informed her portrayal of Therese in Carol. Her rebuttals are polite but firm — her voice gets quieter, her answers shorter.
All this is to say that Mara-McDowell fans should be sure to tune into the Oscars on Feb. 28th. They may not have another public appearance for some time.