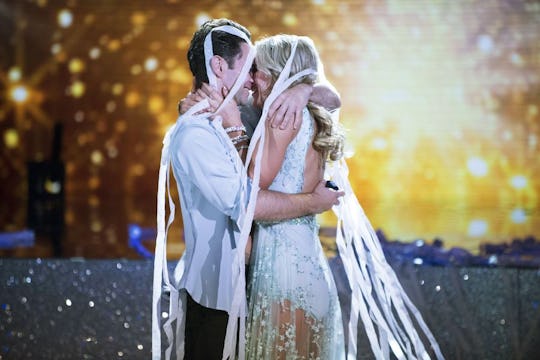 Eric McCandless/ABC
How Did Sasha Farber & Emma Slater Meet? The 'DWTS' Couple Had A Fairytale Romance
On Tuesday night's episode of Dancing With the Stars, dancing pro Sasha Farber, who this season is dancing with Terra Jolé, proposed to his longtime girlfriend Emma Slater, also a Dancing With the Stars pro. The moment was basically as DWTS as it is possible to get, complete with thunderous applause, confetti falling from the ceiling, tears, and Bruno Mars. "Babe, I've wanted to do this for such a long time," he told his soon to be fiance. "I love you so, so much." And then before we knew it the giant screen was blaring "She said yes!" behind them as the whole studio rejoiced. I guess I'm not a Dancing superfan yet, because I didn't even realize these two were a thing. How did Sasha Farber and Emma Slater meet anyway? It turns out they've known each other for a very long time.
The two first met while they were both part of a show called Burn the Floor Sasha told an Australian news show. But they didn't get together until about two years later when they were both on Dancing With the Stars. Overall they've been together for about five years, unless you count the period where they were broken up, but remained so amicable and so close that they continued living together anyway.
If you're thinking that a proposal on live television is a pretty damn risky move (what would they have flashed on that giant screen?), rest assured that Sasha was pretty confident in what Emma was going to say. In a recent interview both agreed that marriage was definitely in the cards for them, they just hadn't found the time yet to actually, ya know, get married. And in an interview with People Sasha revealed that Emma had actually picked the absolutely stunning vintage inspired rose-colored sapphire herself. "She had gone shopping and picked it. I spoke to her sister and she told me and I went and got it," he said.
It definitely feels like the couple was ready for this next step. Emma told the magazine, "We've been together five-and-a-half years. We bought a house recently and this feels like the natural progression. My mother said once that marriage should feel natural and not like a surprise. It should be expected because that's when it's right...It's already felt like I've been his fiancé and wife for years now."
Best of luck to the happy couple!