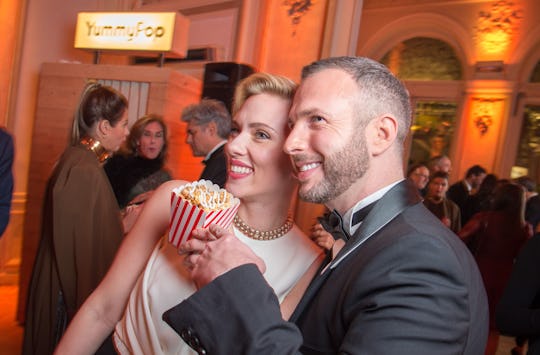 Pascal Le Segretain/Getty Images Entertainment/Getty Images
Scarlett Johansson & Romain Dauriac's Story
Over the weekend, many women were empowered by Scarlett Johansson's speech in Washington D.C. at the Women's March. But almost no one really knew that she was also in the midst of a divorce until some savvy marchers noticed that she wasn't wearing her wedding ring. Scarlett Johansson and Romain Dauriac met in 2012, or at least that was when they were first spotted together in New York City on a date, so their alleged split, which was first reported on Wednesday, comes as a bit of a shock. (Romper has reached out to Johansson's reps for comment on the reported split and is awaiting a response.)
It's not clear exactly how the couple met specifically, but according to E! News, a mutual friend — tattoo artist Fuzi — hooked them up. One year after being spotted sharing lunch, the couple was engaged, and, according to Us Weekly, it was a "whirlwind romance." Throughout their relationship, there was a lot of speculation about whether or not the two were actually tying the proverbial knot. Tabloids repeatedly took every ring Johansson wore for an engagement ring, which was not only presumptuous, but likely annoying. The two eventually got married very under the radar in October 2014.
"They went horseback riding on the trails on the ranch and hiked to the Top of the World mountain peak on the ranch where they saw beautiful views," a source told E! News at the time.
Despite all of that love, the two have reportedly been separated since the summer, according to People. The couple has one child together, Rose, who was born right around their wedding.
"When she came out of me I was so surprised. I had a very strong picture in my mind of what my baby would look like, and, of course, she is completely different. Perfect, but not what I'd imagined," the actor told W magazine at the time.
The 32-year-old has kept her relationship with her French journalist husband and her daughter out of the Hollywood spotlight for the most part, which is why her divorce news might be surprising to some fans. But that doesn't mean she shies away from being a public figure. At the Women's March in D..C., Johansson spoke at the rally on behalf of Planned Parenthood and said:
I'm sure there isn't one person here who has not been helped out by Planned Parenthood directly or otherwise. When I knew I was coming to speak on behalf of women's health and reproductive issues, every single one of my girlfriends had a story about Planned Parenthood. "They saved me so many times," one of my best girlfriends confided in me. "They saved my ass and some other parts too when I found out I had pre-cancerous signs I wouldn't have found out about without my annual checkups."
Divorce is hard, especially with a toddler involved. But Johansson seems to be rising above relationship problems just fine and moving forward with her own important work, despite it all.