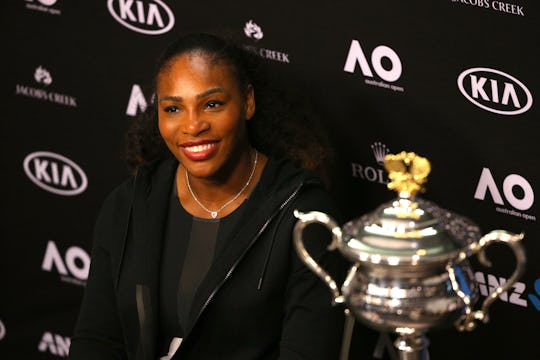 Michael Dodge/Getty Images Sport/Getty Images
How Did Serena Williams & Alexis Ohanian Meet?
Tennis superstar Serena Williams and Reddit co-founder Alexis Ohanian are engaged, and Williams is pregnant, much to the delight of fans of both the sport and the discussion website — plus a whole lot of other people too. The engagement was announced back in December on Reddit, with Williams breaking the news in the form of a poem, and she announced her pregnancy on Wednesday. Since the couple has been relatively low-key about their relationship, some are wondering: how Serena Williams and Alexis Ohanian met?
A source reportedly told Us Weekly that the couple met at a lunch, and the dating news broke on that outlet in October 2015. Apparently, things have gone pretty well for the pair, because People reported the engagement of Williams and Ohanian in poem form at the end of December 2016, and Williams is reported to be 20 weeks along in her pregnancy.
E! News reported that Williams first began dating the Reddit co-founder in 2015, after Williams' fling with singer and rapper Drake. That site also reported that Williams' friends and family were thrilled by the news of the engagement, and that her friends were "so happy" for the sports star.
A source told E! News:
They've never seen Serena this happy before with a man. It sounds cheesy, but it was love at first sight.
Us Weekly reported that, although Williams was recently linked to Drake, a source says that situation was just a "flirty friendship." And it sounds like Williams and Ohanian are the real deal.
Apparently, Ohanian had never been into tennis until he and Williams started dating, according to Us Weekly. But he's gotten into the sport since it's clearly such a huge part of his bride-to-be's life.
Even though there were lots of jokes about Williams "meeting her match" when the couple began dating, it's kind of refreshing that they first hit it off at something as normal and casual as a lunch.
People reported on the major accomplishments that both have to their names: Williams with her 20+ Grand Slam titles in tennis and numerous other awards throughout her career, and Ohanian as a co-founder of Reddit and author of the book Without Their Permission. If such a power couple could meet at something as ordinary as a lunch and hopefully live happily ever after, maybe there's hope for the rest of us too.
Mashable reported that, unlike the engagement announcement, Williams revealed her pregnancy on Snapchat — not Reddit. She's reportedly 20 weeks along, which fans have worked out to mean that she won the Australian Open while pregnant.
NPR concurred that Williams was likely two months pregnant when she beat her sister Venus Williams in the tennis event. The baby will be the first child for both Williams and Ohanian.
And it all started with a lunch, during a "chance" meeting in Rome — where Ohanian later proposed, according to New York Magazine. I guess old school "meet cutes" can still happen in the age of Match.com, OkCupid, and Tinder after all.