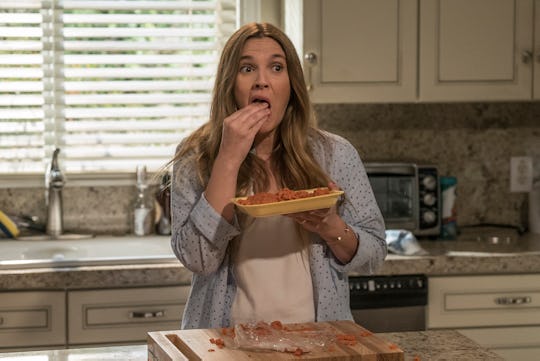 Saeed Adyani / Netflix
Sheila's Fate Is A Mystery On 'Santa Clarita Diet'
Santa Clarita Diet is Netflix's latest comedy series and while it may look like your regular family sitcom, it's far from it. The matriarch of the family, Sheila (played by Drew Barrymore) isn't like your regular mom. No, she's not even a cool mom either (though, I don't know, maybe she is). But she's also an undead mom. So how did Sheila die on Santa Clarita Diet? Well, it's a bit of a mystery to be honest. When Barrymore and her co-star Timothy Olyphant, who plays Sheila's husband Joel, dropped by The TODAY Show, it was mentioned that Sheila dies from a mysterious illness. Unfortunately, that's all the information that's been given out about Sheila's puzzling demise, but hopefully the mystery will be solved within the first season of the show. However, based on the trailer, it's clear Sheila and her family aren't actually sure how she died either.
In the clip, Sheila is surprised to discover she no longer has a heartbeat. Not only that, but now she can sleep for only two hours a night while still having plenty of energy throughout the day. And even more importantly her appetite has drastically changed. She's now interested in eating human flesh, which is of course shocking to Joel and their daughter Abby (played by Liv Hewson). It isn't until Abby's friend (boyfriend?) takes a look at Sheila that it's confirmed she is, in fact, dead. What makes this guy an expert on dead people has yet to be seen. The point is, though, that Sheila somehow died and neither she nor her family even noticed.
The best explanation for this is Sheila died in her sleep and woke up the next morning not realizing she'd died. Or that's the moment when she notices she no longer has a heartbeat. Either way, it seems her death is anticlimactic and not at all what you would call normal. What's most interesting is why she's undead and not just dead dead. Is this a problem that's occurring in Santa Clarita? Is Sheila the first to be affected by this disease and now it's going to spread like in Fear the Walking Dead?
There are a lot of questions surrounding Sheila's death and hopefully they won't go unanswered in the first season. You can find out more about Sheila and her family when Santa Clarita Diet begins streaming on Netflix starting on Friday, Feb. 3.