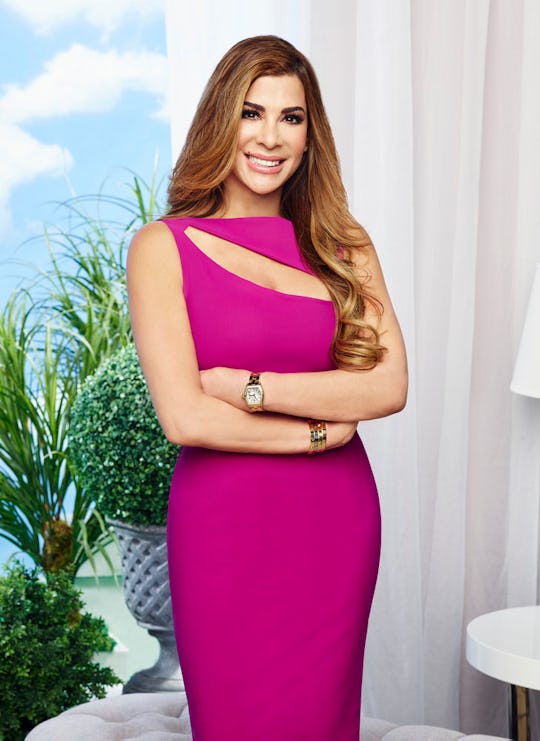 Tommy Garcia/Bravo
How Did Siggy & Her Husband Meet On 'RHONJ'? They Had Instant Chemistry
Siggy Flicker is a new addition to The Real Housewives of New Jersey, but she's already made quite the first impression. I can't remember any other Housewife showing up wrapped up in facelift bandages. She has a pretty interesting backstory, too, particularly when it comes to her marriages. Siggy, a professional matchmaker, had such an amicable divorce from her first husband Mark that he acted as best man at her wedding to her current husband Michael. But how did this surprising situation come to be? How did Siggy and her husband meet on RHONJ?
Siggy was introduced to Michael Campanella by friends, a pretty typical way of meeting someone new. But their chemistry was anything but typical. Though Siggy has said that he wasn't quite her type on paper – she never envisioned herself going for a balding car salesman – she fell for him almost instantly. They've been married since 2012 and couldn't be happier together.
"When I first got divorced, I was going on dates and I would have never met my husband if I was looking at a dating profile and it said, losing hair on top of his head, selling Jeep Cherokees," Siggy said in an interview with Bravo. "To me, when I met Michael, my heart was pounding. I couldn't wait to see him again. I loved the way he looked at me and he asked me questions and he was so humble and I remember dropping my credit card and he bent down and I just saw such a class act."
Siggy explained that her first marriage ended because she never felt free to truly be herself. While Siggy and Mark were able to maintain a friendship, they just didn't work as a couple. She told the Palm Beach Post that she was afraid to act like herself while in the relationship because she wasn't sure he would still like her. However, with Michael things were different. "I've never been so rich before – where it counts," Siggy said in an interview with The Village Voice in 2011. "You can fake many things in life, but true chemistry, you can't fake."
It's great that Siggy has been able to find someone who appreciates her just as is.