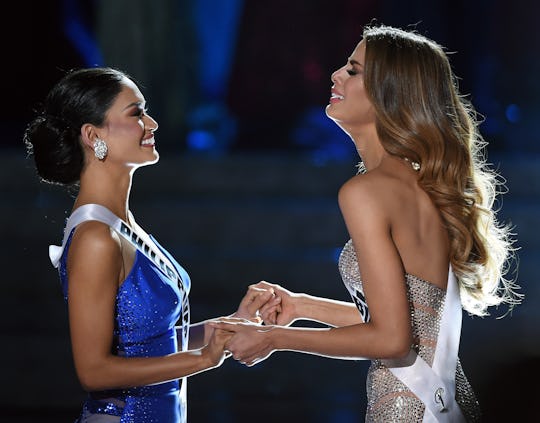 How Did Steve Harvey Crown The Wrong Miss Universe? Miss Colombia Crowned At Pageant By Mistake
It's the most cringe-worthy moment since Miss South Carolina Caitlin Upton flubbed a question back in 2007. On Sunday night, in the final moments of the Miss Universe pageant, host Steve Harvey mistakenly crowned Miss Colombia, Adriana Gutierrez, the winner, despite the fact that it was Miss Philippines, Pia Alonzo Wurtzbach, who should have picked up the prize. After Gutierrez donned the crown and an armful of flowers, Harvey stepped to the stage, telling the audience, "OK folks ... I have to apologize." He continued,
Let me just take control of this. This is exactly what's on the card. I will take responsibility for this. It was my mistake. It was on the card.
Drop Dead Gorgeous couldn't have written the almost cinematic moment better themselves.
So how could this have happened? It's a little unclear, though, according to Fox News, Harvey and pageant owner WME-IMG blamed "human error." (Said Harvey to reporters, "Nobody feels worse about this than me.") It's not entirely unthinkable that someone could make the mistake — after all, winner cards handed to hosts often feature multiple names, highlighting both the runner-up and the winner.
As for how Gutierrez feels about the mix-up? Sure, it might be an embarrassing moment for the pageant queen, but sympathy points go a long way. And going viral is never a bad thing. And based on her words, it seems the real runner-up might recognize just that. As she told fans in a video following the moment, "Everything happens for a reason so I'm happy for all that I did."
Wurtzbach, however, wants to make one thing clear:
I'm very sorry, I did not take the crown away from her and I wish her well in whatever she wants to pursue after this pageant.
Not that she has a reason to apologize for Harvey's mix-up. That said, the daytime talk show host continues to send his regrets about the unfortunate moment via Twitter. (Even though he reportedly misspelled Colombia and the Philippines in an initial tweet that was since deleted.)
And, according to viewers, so was the moment.
Image: Ethan Miller/Getty