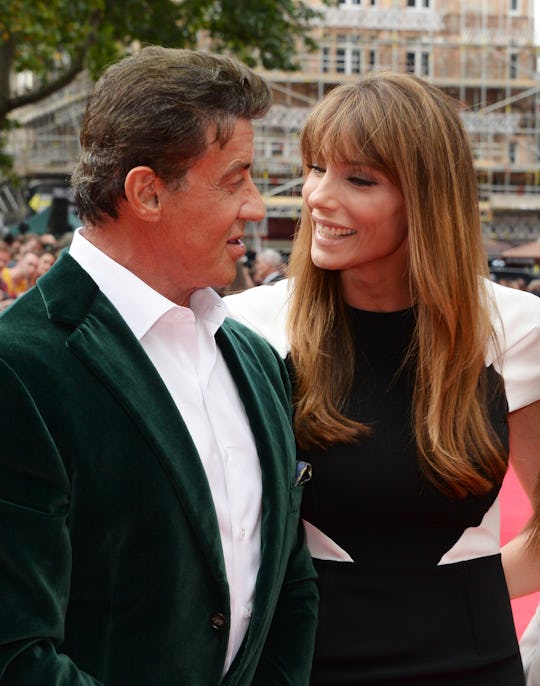 Dave M. Benett/WireImage/Getty Images
How Did Sylvester Stallone & Jennifer Flavin Meet? It's A Kind Of Comeback Story
After nearly 40 years, action film icon Sylvester Stallone has earned his way back onto the Oscars red carpet. This year, Stallone won his third-ever Oscar nomination for his portrayal of aging boxer Rocky Balboa in Creed. The star was nominated for his first two Academy awards — best actor and best original screenplay — in 1977 with the success of his first movie, Rocky. And of course, Stallone's wife Jennifer Flavin will likely stand by him at the Oscars, which would represent another high point in the couple's 28-year history. But how did Sylvester Stallone and Jennifer Flavin meet? Believe it or not, theirs is kind of a comeback story, too.
Crafted over the epic seven-movie Rocky franchise, Rocky Balboa's considered one of the greatest underdog heroes in modern film. The fictional boxer from Philly went from complete obscurity to heavyweight champion, but always struggled to remain relevant. Creed continues that story arc, rebooting the Balboa story for a new audience and introducing a new underdog hero to the franchise. Stallone, who wrote and directed all of the Rocky movies (except for Creed), has called Balboa "the best friend I ever had," and many have drawn parallels between the fictional story and the actor's own life.
In fact, even Stallone's long marriage to entrepreneur and former model Jennifer Flavin is a Rocky-like comeback story of sorts. The couple endured a difficult beginning and various roadblocks over the course of their 28-year relationship.
Stallone and Flavin first met during a random encounter at a West Hollywood restaurant back in 1988, according to People. Flavin was a 19-year-old model and Stallone was an established action film star with several very public failed relationships under his belt. People reported that Stallone's 10-year marriage to his first wife, Sasha Czack, ended in 1984 amidst rumors of infidelity. Soon after, Stallone met and married Danish model and actress Brigitte Nielsen, though that marriage imploded in 1987 after just 19 months.
According to People, Stallone said that the two failed marriages left him feeling "battered," "scarred," trashed," and "humiliated" — not an ideal beginning for a romance. But that could explain why the couple's relationship got off to such a winding and rocky start. The couple dated on-and-off for nearly nine years, and even had a spectacularly ugly (though brief) breakup at around year five, People reported.
Flavin spoke about the breakup during an interview with People magazine in 1994. According to Flavin, she and Stallone had been enjoying a happy — if unorthodox — relationship: "When we come together, it is wonderful," Flavin said in 1991. "When we are separate, there are no strings attached. That's the way it is. No strings."
Just three years later, Stallone abruptly ended the relationship, People reported. And according to Flavin, the news that the couple's relationship was over came to her in the most unexpected and un-romantic way possible: via FedEx. "He sent me a six-page handwritten letter, in pen," she said. "It was pretty sloppy."
In her interview, Flavin said she later learned that Stallone had been having a relationship with model Janice Dickinson, who had just given birth to a child rumored to be Stallone's. Flavin described what it was like to hear the heartbreaking news:
It hit me like a ton of bricks. I had no idea this was going to happen. We talked about us having children, about when I was going to get pregnant. We were already picking names, marking down names that he liked and I liked.
The couple went their separate ways, but the story wasn't over. In a follow-up interview with People, Flavin revealed that she and Stallone mended their relationship in 1995, just before welcoming their daughter, Sophia, into the world. In a statement issued just before the couple married in 1997, Stallone said, "I have had two great things happen to me in the past year: the birth of our beautiful daughter Sophia Rose and now my marriage to Jennifer, who is a great mother and I know will be a wonderful wife." Stallone and Flavin married in a small ceremony at London's Dorchester Hotel, according to People.
Stallone and Flavin certainly give us all hope that it's possible to build a long, happy marriage in the public eye. Cheers to them for fighting against the odds and coming out on top. I doubt Stallone himself could have written a better comeback story.