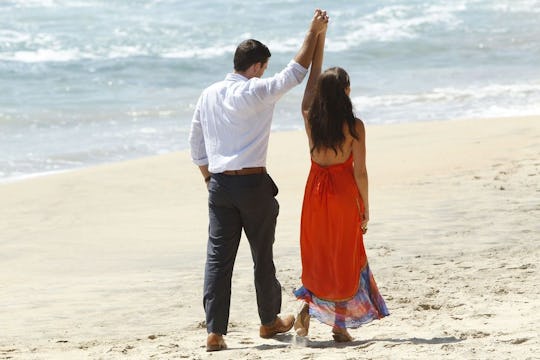 Rick Rowell/ABC
How Did Tanner Tolbert & Jade Roper Meet? Their Meeting Was Very Public
The Bachelor and its off-shoots The Bachelorette and The Bachelor in Paradise are known for being full of drama, often involving lots of tears, occasionally violence, and very early declarations of love. What it's not particularly known for is an ability to foster truly meaningful relationships, and most of the people who "find love" on the show unfortunately don't end up making it. There are, of course, some notable exceptions, including Ryan and Trista Sutter, and Kaitlyn Bristowe and Shawn Booth. Another example would Tanner Tolbert and Jade Roper, who married on television after meeting and falling in love on Bachelor in Paradise 2. How did Jade Roper and Tanner Tolbert meet?
When the lucky Bachelor alums first arrived in paradise, Jade was the first to catch Tanner's eye. He said that though all of the women were beautiful, he was most interested in Jade. And she told E! News that the first night she kept trying to strategically place herself closer to him so that he'd talk to her, and it worked! Just a few short weeks and many an elaborate date later, Tanner proposed to Jade on the beach, while their cast mates looked on from above. While the season's other couples had relationships plagued with drama, Tanner and Jade's romance burned more quietly and more steadily than many of the others.
The couple's wedding was aired on ABC on February 14 (aww) and will be aired for a second time June 13, instead of The Bachelorette. Today, the couple seems to be enjoying married life in the most adorable way possible. Soon after their wedding, the couple bought a house and adopted a puppy. Some fans were expecting a baby, but maybe we let the couple go at their own pace. Jade and Tanner (or Janner if you're short on time) live in Kansas City and are now just adorable full-time. The two share a mutual love for Instagram endorsements. They also both love a good bathroom selfie.
Best wishes, you crazy kids.