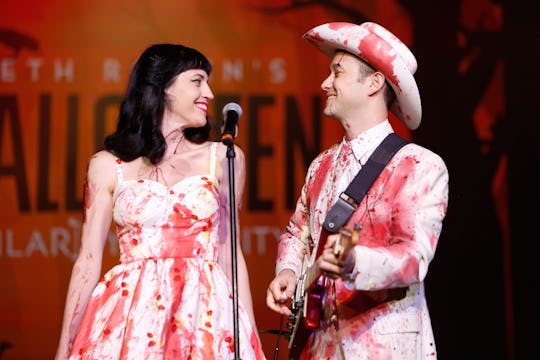 Randy Shropshire/Getty Images Entertainment/Getty Images
How Tasha McCauley & Joseph Gordon Levitt Met
Last week, news broke that Joseph Gordon-Levitt and his wife, Tasha McCauley, had welcomed a second son into their family in June. For those of us who are still living under a rock (and in a very comfortable alternative reality in which Gordon-Levitt is single and just waiting to stumble into us), the fact that he's now a dad with two kids could be a tad surprising. So how did Tasha McCauley and Joseph Gordon-Levitt meet, when did this all happen, and what's their little family's story?
McCauley and Gordon-Levitt have mainly kept details about their private life under wraps, but according to ABC News, Gordon-Levitt told Howard Stern in 2013 that he had a girlfriend whom he'd met through his social network. "We had mutual friends," he said, refusing to disclose whether they'd been introduced or met at an event. "I mean, we have lots of mutual friends."
According to People, McCauley is the co-founder and CEO of a robotics company called Fellow Robots, and she reportedly speaks three languages. Judging by Gordon-Levitt's (very brief) description of her to Stern, she's also not a huge fan of media attention. "The girl that I'm with, she really doesn't want to be a part of it," he said of his life in the public eye, according to Us Weekly. "You can imagine not wanting to have that kind of scrutiny."
After meeting through mutual friends and managing to keep their private life (mostly) private, McCauley and Gordon-Levitt got married in a secret ceremony at their home in December 2014. And while he didn't divulge any details at the time, according to Us Weekly, he'd told Stern the year before:
I think that I could partner up with somebody -- I don't know who that somebody is -- I could partner up with a woman and commit to we're going to raise a family and that's a project we're going to commit to for 20-something years. ... I like to not be too committed to any one future that's really far away, necessarily, unless there's a reason, which is why I'm saying if you're gonna raise a family . . . I can make that commitment.
In August 2015, almost a year after they married, McCauley and Gordon-Levitt welcomed their first son, and they've kept details about him under wraps ever since. Chances are they'll be just as protective about their second baby, which makes perfect sense, as Gordon-Levitt has explained in the past that he'd like his kids to make their own choices about their privacy.
In the meantime, however, it sounds like Gordon-Levitt and McCauley have committed to enjoying the company of two little ones for now. Congratulations to the happy couple on the latest addition to their family!