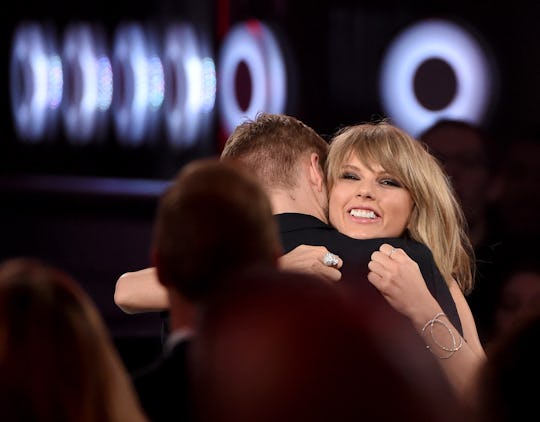 Ethan Miller/Getty
How Did Taylor Swift And Calvin Harris Meet? The Couple Is Quiet About Their Relationship
It's a musical match made in heaven — four-time Grammy award winner falls for 16-time Grammy award winner. (OK, so maybe they're not completely evenly matched. Sorry, Calvin.) It's been nearly a year since murmurs first started that Taylor Swift and Calvin Harris had a romantic connection, but, considering the duo keeps their relationship on the down-low, we still don't know much about their status. Are they in love? Moving in together? And how did Swift and Harris even meet to begin with?
Fortunately, we don't have to wait until Swift releases her next album to find out the answer to that last question. According to a source via E! Online, Swift and Harris met in February 2015 at the Brit Awards. "He is taken with her," the source said in March 2015. "They actually make a great couple. They are just getting to know each other and we'll see what happens."
Well, what has happened since then? The casual relationship blossomed into a fully fledged relationship, with reports being tossed around that Swift and Harris are living together (false, according to Swift's rep) and that they're considering getting engaged. (But, like, I'm "considering" not eating exclusively pizza tonight, and we know that won't happen, so take that report for what it's worth.) What we do know is that Harris is tight enough to Swift to make it onto her Instagram.
And to feel comfortable about admitting the fact that they're dating. Talking to KISS FM UK back in July, Harris said he is "insanely happy with" Swift, and tried to dispell some of the misinformation fed to media about the duo. As he said:
Obviously there's different things written about [our relationship] every day and even if we don't do anything sort of publicly for a while, someone will make something up, and there will be some sort of story...It gets more and more ridiculous!
And it's likely the couple will only fuel the rumor fire on Feb. 15, when Swift will attend and perform at the Grammys. (What jewelry will she wear that looks like an engagement ring? And how long will we investigate its origins, size, and placement?) Though it's not yet know whether or not Swift and Harris will walk the red carpet together, according to another report, Harris has big plans for the weekend. As a friend of Swift and Harris told Hollywood Life:
She is going to have a big weekend with the Grammy Awards so he is looking to party with her, have a nice dinner with her and then spend as much quality alone time with her as possible.
Considering they enjoyed a quiet meet-cute, and have enjoyed a quiet relationship, here's guessing a quiet Valentine's Day is exactly what Swift and Harris would enjoy.