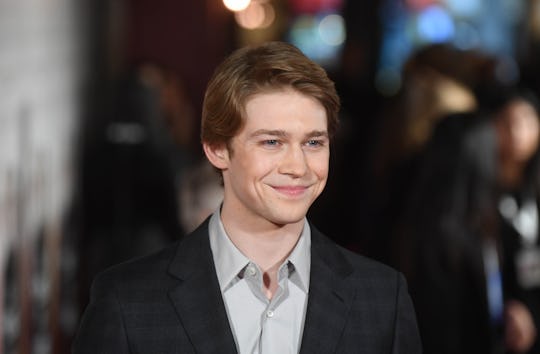 Stuart C. Wilson/Getty Images Entertainment/Getty Images
Here's How Taylor Swift & Joe Alwyn Reportedly Met
As you may have heard, Taylor Swift's new album, Reputation, finally dropped late Thursday night. After months of speculation, fans can now get a hold of the album and listen to the tracks to see what the singer wrote about this time around. And rumor has it, several of the songs reference her current boyfriend, British actor Joe Alwyn. But some fans may not know the story of how Taylor Swift and Joe Alwyn met, so allow me to try to enlighten you.
First of all, who is Alwyn? Swift may be a huge star in the music world, but Alwyn is a rising star in his acting field instead, according to the International Business Times. He is from London, and got his first professional acting role in 2016. He was in Ang Lee's Billy Lynn's Long Halftime Walk, and has been acting in various other projects ever since.
And it sounds like 2018 will be a busy year for both Alwyn and Swift. Next year, Alwyn is supposed to appear in The Favourite, starring Emma Stone, and Mary Queen of Scots, with Saoirse Ronan and Margot Robbie, the International Business Times reported. It's likely that Swift will go on tour or otherwise promote Reputation, so both stars will be in the spotlight.
Swift seems to hint at her romance with Alwyn, and even the moment she fell in love with him, in her new song "Gorgeous." During her "secret sessions," where Swift played the Reputation album early for fans, she reportedly told listeners "if anyone made any accusations of who this song is about we tell them it is 100 percent about her angel boyfriend of one year," according to The Washington Post.
That angel is rumored to be Alwyn, though the two have notoriously kept the relationship very quiet. On "Gorgeous," Swift sings, "You should take it as a compliment that I got drunk and made fun of the way you talk," according to USA Today. Alwyn is British, and Swift probably means that she teased him about his accent.
Swift also sings about her boyfriend's blue eyes on "Gorgeous," and seems to reference them on the tracks "Dancing With Our Hands Tied" and "Delicate" as well. If you haven't gotten the idea yet, Swift talks about a guy who fits Alwyn's description a lot on this album.
Alwyn's eyes were clearly a draw for Taylor when she first saw him, if several songs off the Reputation album are any indication. But how they specifically met for the first time seems to be a little up in the air.
One account says the two met through mutual friends, according to E! News. Fan rumors suggest that Swift and Alwyn met at or around the time of the Met Ball in 2016, People reported. And this seems to be supported by one of Swift's new songs. On the track "Dress," Swift sings:
Flashback to when you met me / Your buzz cut / And my hair bleached
At the time of the 2016 Met Ball, Alwyn had a buzzcut while filming Billy Lynn's Halftime Walk, and Swift had bleached hair for a few months that spring, according to People.
And even though news of Swift and Alwyn's relationship first broke back in May, they had apparently already known each other for a year, according to POPSUGAR. Swift reportedly didn't break up with ex-boyfriend Calvin Harris until June of 2016, so if the line "And I got a boyfriend, he's older than us/He's in the club doing, I don't know what" is about her ex and Alwyn, the timeline matches up.
But it might not have been the Met Ball event that the pair met at, according to Glamour. That outlet reported that the pair actually met in Hollywood, but it would have been around the time of the Met Ball, at least.
So there are still some questions about how exactly Swift and Alwyn met. And fans probably won't know for sure until the couple goes public, and if Taylor ever decides to give specifics. For now, all we really have are the songs on Reputation to speculate.
Check out Romper's new video series, Romper's Doula Diaries:
Watch full episodes of Romper's Doula Diaries on Facebook Watch.