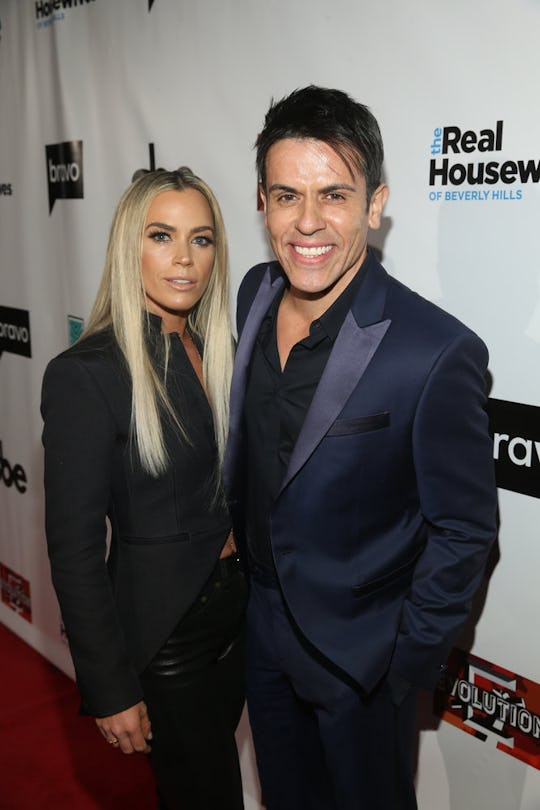 Jesse Grant/Bravo
'RHOBH' Star Teddi Mellencamp Reveals How She Met Her Husband
Season 8 of The Real Housewives of Beverly Hills introduced a new housewife, Teddi Mellencamp, who is already proving to be a welcome addition. However, people are also loving Teddi's husband Edwin Arroyave. So how did Teddi Mellencamp and her husband meet? Are these two the next Beverly Hills power couple? Am I going to have to dethrone Mauricio Umansky as the best Real House-husband on this series? Only time will tell whether Edwin is really that good, but he's off to a great start.
As for how the couple first met, Teddi proved right off the bat that she's not one to beat around the bush. "I could try to sugarcoat it," she said in the season's first episode, "But it was a one-night stand." Personally, I don't think there's anything wrong with a one-night stand. And besides, it certainly turned out for the best. And Teddi, as usual, had a great sense of humor about it. "It was supposed to be a one-night stand! I woke up with some guy I thought's name was Edward. His name is Edwin!" she laughed. Clearly, the one-night stand thing didn't end up remaining a one-night thing. Now the couple has been married for years, and they have a beautiful house and two beautiful children together.
In Teddi's first blog about the show, she addressed the circumstances of meeting Edwin again with a very zen attitude that I totally applaud. If anyone is wondering how she's going to explain that to her kids, well she has the best answer. She wrote:
I don't know what I'm teaching them by revealing that their father/my husband Edwin was supposed to be a one-night stand, other than life doesn't always go how you expect it and you should always learn somebody's name when you first meet them. We've been together for nine years and have our beautiful children, so the story definitely has a happy ending.
Honestly, I love everything about this. Life definitely doesn't always go as planned and learning people's names just seems like a good policy all around. During her house-tour, Teddi pointed out a wedding picture of the two of them in Paris, which she says she loves because it reminds her of the day they got married. Note to self: Paris sounds like a great place to get married.
For what it's worth, I've already grown to be a big fan of Edwin as far as husbands on this show go. The husbands sometimes get very involved with the action of the show, which sometimes works and sometimes doesn't. Other husbands tend to back off, only showing up to offer their wives support when needed. This is my favorite type of Real House-husband.
A husband who didn't make such a good impression was Dorit Kemsley's husband PK. In Season 7, PK got right in the middle of all the drama by instigating and perpetuating "panty-gate," one of the more ridiculous storylines I've ever seen from this show. Quite frankly, it was not a good look. Already on this season he's started gossiping about his mortal enemies Lisa Rinna and Erika Girardi to Teddi and Edwin when they went over to his house for dinner. Teddi and Edwin didn't seem to think this was a good look either.
This dinner definitely seemed to indicate to me that Edwin was going to be more of a background character in the show this season. Whatever else is going on with him, it's very clear that he and Teddi have a fantastic relationship. I can't wait to see more of him.
Check out Romper's new video series, Romper's Doula Diaries:
Watch full episodes of Romper's Doula Diaries on Facebook Watch.