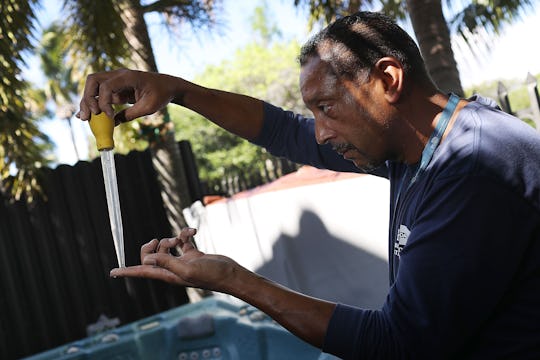 Joe Raedle/Getty Images News/Getty Images
How Did The Pregnant Women In The United States Catch Zika? More Than 100 Are Now Affected
On May 20, the Centers for Disease Control reported that the number of pregnant women in the United States infected with the Zika virus had tripled from 48 to 157. But how did the pregnant women in the United States catch Zika? There's a variety of ways people can become infected, but the pregnant women in the U.S. caught it one of two ways.
According to CNN, even with the much warmer weather of the past few weeks, no one has yet to contract Zika via a mosquito bite — called a local transmission — in the continental United States. The women who have been infected with the virus contracted it by traveling to a country where Zika is endemic, such as Brazil and many Central American countries, or by having sexual intercourse with a male partner who had the Zika virus. It has not been reported publicly how many contracted the virus via travel and how many via sexual transmission.
Astonishingly, the rapid increase in number isn't just due to more people contracting Zika; it's largely due to a change in how the CDC diagnoses the infection. It added more than 100 women to its report who were infected with the virus but showed no symptoms. Even without exterior signs, like a rash, a fever, or pink eye, their fetus can still suffer the devastating consequences of infection. Since its primary outbreak in Brazil, the link between the Zika virus and developmental birth defects has been confirmed, according to NPR. The most serious of the complications is a rare condition known as microcephaly, which causes the baby's head and brain to be abnormally small.
The World Health Organization announced recently that the strain of Zika that has spread across South and Central America has been conveyed across the Atlantic to Cape Verde. Dr. Matshidiso Moeti, the WHO's regional director in Africa, said, "The findings are of concern because it is further proof that the outbreak is spreading beyond South America and is on the doorstep of Africa." Though researchers are not certain how the strain was imported, they are fairly certain it originated in Brazil. In Cape Verde, there are now at least three cases of microcephaly due to the spread of Zika to that region.
President Obama has been pushing Congress to approve more, and more specific, funding in order to battle the spread of Zika across the globe and in the United States. According to a press release, he is emphasizing that politicians, researchers, and health workers have "got to get moving" on a response. He said, according to the White House:
Right now, what we've seen is a little over 500 cases of Zika in the continental United States, and they all appear to be travel related, not mosquito-transmitted, meaning somebody from the U.S. went down to an area that has Zika, got a bite, came back. We have seen at least 10 cases in which a individual went to one of these areas, got infected, and then sexually transmitted Zika to their partner.
A more significant, immediate concern is Puerto Rico, where we know that there are over 800 cases that have been diagnosed. However, we suspect that it could be significantly higher.
Despite those growing numbers, he ended his statement optimistically. He said, "This is something that is solvable. It is not something that we have to panic about, but it is something that we need to take seriously."