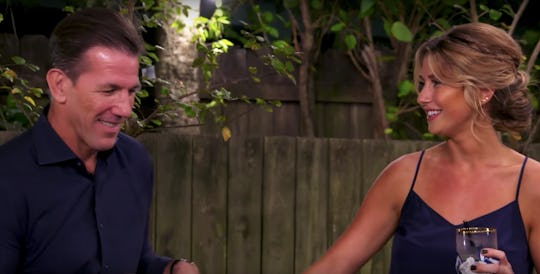 Bravo
The Story Of How Thomas & Ashley Met Will Warm The Hearts Of Any 'Southern Charm' Fan
Apparently love is not dead after all on Bravo's Southern Charm. In the fifth season, though most of the couples from Season 4 have broken up, Thomas Ravenel has a new lady love, Ashley Jacobs who he introduced to the group in the season's second episode. If you have a bit of whiplash, you're not alone. So how did Thomas and Ashley meet? It turns out that Ashley is not from Charleston or the south like the rest of the cast. Thomas actually met her in California and then she decided to move out to Charleston to be near him.
In the first episode, Thomas described meeting Ashley in California and their instant connection, which appears to still be going strong. "I met this beautiful nurse out in California," Thomas said to the cameras upon her introduction. Thomas explained their first interaction, stating: "I was in this bar and looked over and she was going," therein making a seductive come hither motion with his index finger. "And I made a beeline there. And we've been together ever since." Their connection must have been pretty strong for her to pack up and move her things all the way across the country for a man she can't have known very long.
And at least one person on Southern Charm isn't buying that story. That would be Thomas's ex-girlfriend and the mother of his two children, Kensington and St. Julien, Kathryn Dennis. Kathryn scoffed to the camera, "I think it's very clear what Ashley's intentions are. She didn't come her for love. I mean no one buys that sh*t for a damn second." Needless to say, the first meeting between the two women in the second episode, though without real fireworks, was not exactly warm. Kathryn was clearly upset that Thomas didn't tell her about Ashley, and that he'd already introduced her to their children without running it by her.
The season has already teased a couple of big confrontations between Ashley and Kathryn, which is sure to drive a lot of the drama in the coming episodes. But while I totally understand Kathryn's frustration as well as her dubiousness, if social media is to be believed, Ashley and Thomas really are very much in love and plan to start a future together. In the show, Ashley even joked about the two of them getting married so she could be the caretaker for his children.
Ashley's Instagram in particular is filled to the brim with photos of the two of them together, each image captioned with some achingly earnest declaration of true love like, "If I had my life to live again, I'd find you sooner," and "I wanna spend the rest of my sunsets with you." So is it true love? Ashley and Thomas say that it is, so who am I to disagree? Good luck to you, kids and I hope it works out.
The good news is that the couple has at least one Southern Charm alum on their side. Landon Clements, who left the show after Season 4, has already said publicly that she approves of the two of them together. "[Thomas's] girlfriend Ashley is a sweetheart," she told People during a recent interview. "We've become really good friends, and she's moved to Charleston and is getting her nursing license to switch over."
It's too bad Landon won't be around in Charleston to have Ashley's back when she and Kathryn go head-to-head. Because say what you will about Kathryn, but she is a woman who does not mess around when it comes to verbal darts.