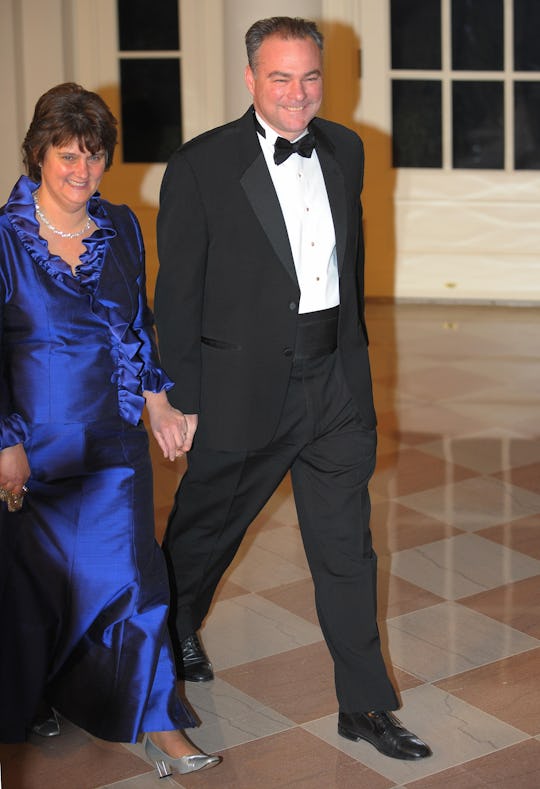 MANDEL NGAN/AFP/Getty Images
How Did Tim Kaine & Anne Holton Meet? They Met At Their Alma Mater
Virginia Sen. Tim Kaine just rocketed into the national spotlight by being named as former Secretary of State Hillary Clinton's running mate and vice presidential candidate. He also happens to be married to longtime child advocate and Virginia Secretary of Education Anne Holton. How did Tim Kaine and Anne Holton meet?
The couple met at Harvard Law School and married in 1984.
"I knew right away that he was the man for me," she told the Roanoke Times in 2006 just after her husband was elected as Virginia's governor. Holton wasn't only the Virginia First Lady, she was also the daughter of Virginia Governor Linwood Holton who served from 1970 to 1974.
After law school Holton worked for low-income clients at the Central Virginia Aid Society. In 1998 she was appointed to the bench as a Richmond Juvenile Domestic Relations judge. But at the same time she become a judge her husband became Mayor of Richmond, so a few months later she decided to step down and commit fully to her duties as a mom and first lady of Richmond, the Roanoke Times reported.
But that certainly wasn't the end of her career.
Holton has always worked on behalf of children an education.
As governor, Holton's father worked to integrate Virginia public schools, even sending Ann and her sister to Richmond City public school, an all-black school.
"I have spent much of my working life focused on children and families at the margin, with full appreciation of the crucial role education can and must play in helping young people escape poverty and become successful adults," Holton wrote in the Washington Post in 2015.
As First Lady of Virginia, Holton advocated for teens in foster care, a cause she continued to advocate for long after she left the governor's mansion.
As Secretary of Education, the Washington Post reported, Holton is trying to reform standardized testing that critics say isn't effective.
'Teachers are teaching to the tests. Students' and teachers' love of learning and teaching are sapped,' she added in her Washington Post Op-ed. "Most troublesome, Virginia's persistent achievement gaps for low-income students have barely budged."
She also advocates for increased public school funding, teacher pay raises, and opposes charter schools and other school choice measures.
Tim Kaine and Ann Holton have three grown children—daughter Annella, and two sons, Nat and Woody, according to Heavy. And all three continued the family tradition of attending public schools.
We're likely to see much more of Ann Holton on the campaign trail.