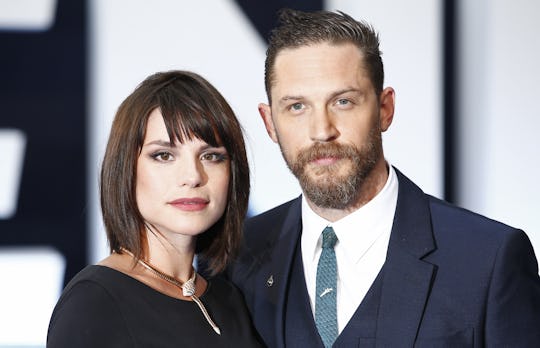 JUSTIN TALLIS/AFP/Getty Images
How Did Tom Hardy & Charlotte Riley Meet? They've Got TV To Thank
Mad Max: Fury Road, Inception, The Dark Knight Rises, The Revenant, Legend, and the TV series Peaky Blinders are all to blame (thank?) for making Tom Hardy a household name over the past few years. After securing the nomination in the Best Supporting Actor category at the 2016 Oscars — I'm kind of curious: Is Tom Hardy single? Does Tom Hardy want to be my life partner? Unfortunately for me, Hardy is married to actress Charlotte Riley. (But kudos for them.) Which leads me to my next question: How did Tom Hardy and Charlotte Riley meet? Because if I'm going to be OK losing Hardy to anyone, I need to know literally everything about their relationship, starting with its inception. Turns out, Riley and Hardy have been together ever since they shared the screen together, dating all the way back to 2009.
The actress and the actor met on the set of the British adaptation of Wuthering Heights and were engaged a year later. Rumor has it that Riley and Hardy were married in a secret ceremony over July 4 weekend in 2014 at an 18 century castle in Provence. (Could've been us, Tom. Could've been us.) Though they were able to keep their nuptials about the of public eye, a source close to the couple confirmed the marriage two months later to The Sun, saying, "It was a beautiful, low-key day made even more special because they just had their closest friends and family around them." Hardy's son, Louis, from a previous relationship whom Riley calls the "most incredible, intelligent, creative little human being I have ever met," also played a role in the wedding, the source adds. And though their relationship first began between scenes of Wuthering Heights, it wasn't the last time the pair acted together.
Since playing Cathy and Heathcliff together on ITV, Hardy and Riley also starred together on the TV series Peaky Blinders, which, according to IMDb, is the story of a gangster family set in 1919 Birmingham, England. Riley plays May Carleton on the show. Her character is widowed, from a well-to-do family, and she's also a successful race-horse trainer, according to the Peaky Blinders Wikia. Her partner, Hardy, stars as one of the show's main characters, Alfie Solomons, a Jewish gang leader, who's violent, unpredictable, and a WWI veteran. I know what your next question is, and no, the two have separate love interests on the show. Riley was also up for the role of Cat Woman in The Dark Knight Rises, though the role went to someone else. Hardy infamously owned the role of Bane in the film, and Cat Woman was played by Anne Hathaway. Riley also starred in Edge of Tomorrow alongside Tom Cruise.
In 2013, Riley spoke to the Daily Mail about the couple's desire to grow their family. When asked if she and Hardy wanted to have planned on having children together, Riley responded: "Hell, yes, I want babies, lots of them. Definitely, absolutely definitely." Two years later, in October 2015, Hardy and Riley welcomed their first child together. The couple has yet to reveal baby's name or gender. And even though it's tough to compete with the arrival of baby so close to the end of 2015, here's hoping Hardy takes home an Oscar to really start 2016 off with a bang.