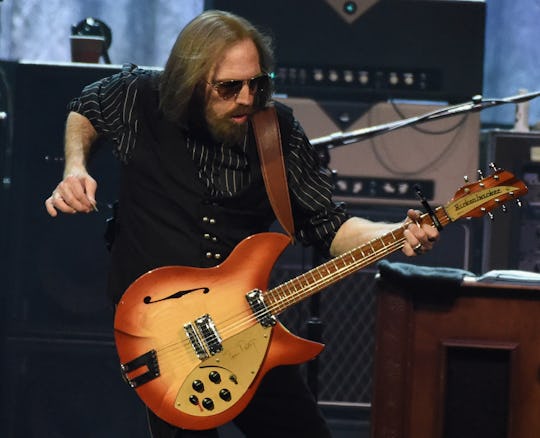 Rick Diamond/Getty Images Entertainment/Getty Images
Rock Legend Tom Petty Has Died At 66
Update: According to CNN, Tom Petty has died, after being placed on life support. TMZ originally reported that the musician had not died, despite reports, and was "clinging to life" earlier Monday night.
Earlier: Despite reports, Tom Petty has not passed away. According to TMZ, Petty is "clinging to life" but "is not expected to live throughout the day." In a tweet, the LAPD states it has no information about the passing of singer Tom Petty. We will update when there is more news about Petty's condition.
On Monday, a sad day got even worse after news broke that beloved rock icon Tom Petty had reportedly been put on life support. Many media outlets confirmed that the 66-year-old rocker had died after he was reportedly found unconscious and in full cardiac arrest at his home, although this not been confirmed by Petty's representatives. But, should these reports be true, how did Tom Petty die? According to CBS News, he was rushed to the hospital and subsequently taken off of life support there on Monday afternoon, although conflicting reports about his current health have yet to be confirmed.
TMZ reported that law enforcement officials were able to find a pulse when they came to Petty's home in Malibu, but by the time they rushed him to the UCLA Santa Monica Hospital, Petty had no brain activity. Reportedly "a decision was made to pull life support," although later reports said that Petty was still "clinging to life" but not expected to live much longer, according to TMZ.
The musician had recently returned from playing a 40th anniversary summer tour with Tom Petty and the Heartbreakers. It was intended to be their farewell tour, Petty told Rolling Stone back before he and the band took off, saying that it would be their "last trip around the country" and that he wanted "to make it celebratory." However, he was still planning to continue on with music, telling the magazine, "I need something to do, or I tend to be a nuisance around the house."
Petty's reported death marks a huge loss for rock music. He's been hailed as one of the best lyricists of his generation, with heartfelt, insanely catchy and often surprising songs that never strayed too far from classic rock even over the course of a long and interesting career. The Hollywood Reporter quotes him as saying, back in the 1970s when he gaining national fame, "We ain't no punk band, we ain't folk rock, jazz rock, or any of that bullsh*t. Just rock, and we don't put no other name on it than that. We'd be stupid if we did."
Petty was a whirlwind of productivity. He made music with The Heartbreakers, but also by himself and with fellow music legends George Harrison, Bob Dylan, Roy Orbison and Jeff Lynne as a part of the supergroup Traveling Wilburys. In the years before he put on life support, he also reunited with his original band before Tom Petty and the Heartbreakers, Mudcrutch. You've likely heard his most famous song, "Free Fallin,'" hundreds of times, but still it's hard to get sick of it.
According to Rolling Stone, the world has Elvis Presley to thank for Petty's entrance into the rock world. After a rough childhood in poverty with an abusive father, 11-year-old Petty met the King one day when Presley was shooting a movie not far from Petty's Florida home, and was inspired. However, according to Rolling Stone, Elvis' music seemed so unattainable to Petty that he didn't really believe he himself could be a musician until he fell deeply for The Beatles and the Rolling Stones. From then on, he was off and running, regularly charting on Billboard, selling out tours, becoming a radio staple, and eventually being inducted into the Rock and Roll Hall of Fame.
In a statement to Rolling Stone, bandmate, friend, and fellow icon Bob Dylan wrote,
It's shocking, crushing news. I thought the world of Tom. He was great performer, full of the light, a friend, and I'll never forget him.
Even as his exact condition remains unclear, other tributes flooded social media, praising Petty for all the light he brought into the world.
Now's a good time to pull out the old Petty records, or head on over to Spotify and devote a few hours to his classics. Reports about his current state may still be uncertain, but one thing is sure: this man wrote a lot of amazing music, and it's time to honor him.
Watch Romper's new video series, Romper's Doula Diaries:
Check out the entire Romper's Doula Diaries series and other videos on Facebook and the Bustle app across Apple TV, Roku, and Amazon Fire TV.