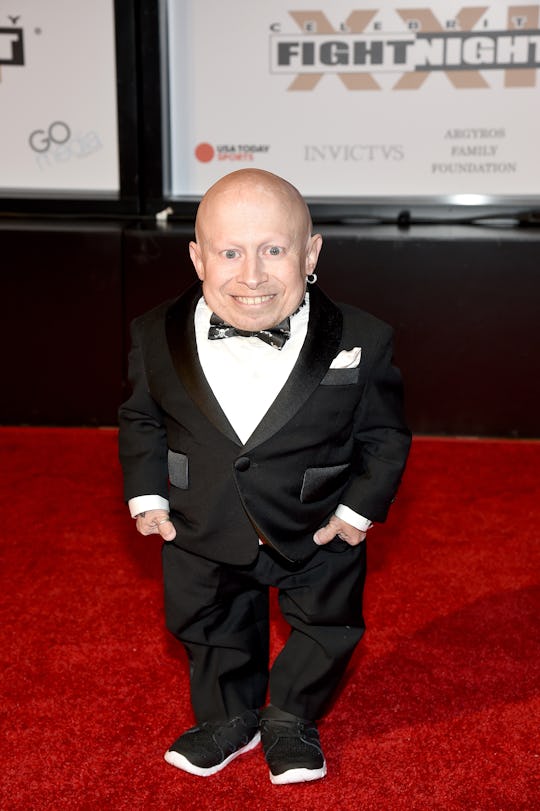 Ethan Miller/Getty Images Entertainment/Getty Images
How Did Verne Troyer Die? The 'Austin Powers' Actor Was 49
Verne Troyer — best known for his role as Dr. Evil's sidekick Mini-Me in Austin Powers — has died, E! News reported. On Saturday, the shocking news was announced on the actor's social media channels. As the world learns of his untimely passing, fans of the funny actor are likely wondering: How did Verne Troyer die? Because the Austin Powers actor was only 49.
Earlier this month, law enforcement sources told TMZ that a friend of Troyer's had called and described him as "being extremely upset, drunk and suicidal." Cops and paramedics responded to the actor's North Hollywood home, and Verne was given emergency medical care for potential alcohol poisoning. People confirmed that Troyer was rushed to a hospital on April 2 for a "reported poisoning." On April 3, family members took to social media to provide an update to his followers. "Asking you to keep Verne in your thoughts and prayers," they wrote on Instagram. "He's getting the best care possible and is resting comfortably. Appreciate the support from family, friends, and fans around the world. We will keep you updated here." It wasn't until Saturday afternoon, however, that Instagram followers received another update. And it definitely wasn't the one they were hoping for.
"It is with great sadness and incredibly heavy hearts to write that Verne passed away today," family members wrote on Instagram, Us Weekly reported. "Verne was an extremely caring individual. He wanted to make everyone smile, be happy, and laugh. Anybody in need, he would help to any extent possible. Verne hoped he made a positive change with the platform he had and worked towards spreading that message everyday." They continued:
He inspired people around the world with his drive, determination, and attitude. On film & television sets, commercial shoots, at comic-con's & personal appearances, to his own YouTube videos, he was there to show everyone what he was capable of doing. Even though his stature was small and his parents often wondered if he'd be able to reach up and open doors on his own in his life, he went on to open more doors for himself and others than anyone could have imagined. He also touched more peoples hearts than he will ever know.
The Instagram post also shared that Troyer had been baptized while surrounded by family. "Verne was also a fighter when it came to his own battles," his family acknowledged. "Over the years he's struggled and won, struggled and won, struggled and fought some more, but unfortunately this time was too much."
Although the cause of his death wasn't revealed, the second-to-last paragraph that offered a hint at what might have contributed to his death.
Depression and Suicide are very serious issues. You never know what kind of battle someone is going through inside. Be kind to one another. And always know, it's never too late to reach out to someone for help.
Troyer's followers were understandably devastated by the news of his passing. "So incredibly saddened by the news," one Instagram user wrote. "My deepest condolences."
"Rip Verne," another follower commented. "Thanks for sharing with the world your amazing gifts."
Yet another Instagram user pointed out that April has seemingly brought one death after another. "Oh man Avicci, Erin Poppovich, Barbara Bush, and now Verne Troyer this is the worst month in a while. R.I.P Verne you will be missed."
Troyer had been hospitalized for alcohol addiction just last year. At the time, he opened up about is ongoing battle with alcoholism. "I've been hearing from some concerned fans, so I'd like to address a very personal situation," Troyer told People in a statement last April. "As you know, I've battled alcohol addiction in the past and while it's not always been an easy fight, I'm willing to continue my fight day by day." He later checked into a treatment center, People reported.
In lieu of flowers, E! Online reported the family is requesting donations in Troyer's name to either of his two favorite charities: The Starkey Hearing Foundation and Best Buddies.