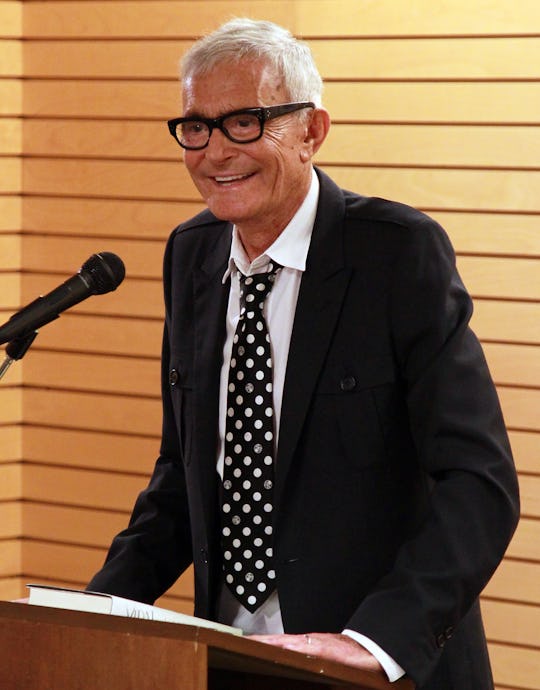 David Livingston/Getty Images Entertainment/Getty Images
Eden Sassoon Remembers Her Legendary Father
Season 7 of The Real Housewives of Beverley Hills has introduced some new housewives to the fans, including Eden Sassoon. The reality star may not be recognizable to everyone, but she does have a famous father. Her dad, Vidal Sassoon, was a famous hairdresser and stylist, who's best known for recreating the classic "bob cut." Sassoon opened salons and started a line of hair-car products with his name, all of which still exist today. Unfortunately, Vidal passed away five years ago, but how did Vidal Sassoon die?
It was revealed in 2011 that the legendary stylist had been diagnosed with leukemia and had been undergoing treatment for two years. However, Vidal lost his battle to the cancer on May 9, 2012 at the age of 84. His was at his home in L.A., along with his family. Today, Vidal would've celebrated his 89th birthday and Eden took to Twitter earlier in the day to wish her father and brother, Elan, who shares the birthday, a happy birthday.
Vidal isn't the only famous parent Eden has, however. Her mother is actress Beverly Adams, who appeared in various popular films and TV shows in '60s including Bewitched, How to Stuff a Wild Bikini, Gidget, and Murderer's Row.
Eden's parents married in 1967 and besides Eden and Elan, they had another daughter, Catya, who unfortunately passed away in 2002 after a drug-induced heart attack. The couple also adopted a son, David, who was infamously cut out of Vidal's will prior to his death. The father and son had been estranged for quite sometime and even after Vidal's death David maintains that his father was the cause of their estrangement.
Though Eden's parentage is definitely a huge part of who she is and has definitely influenced her role on The Real Housewives of Beverly Hills, her past isn't her focus right now; instead, she's looking towards the future. She now owns her own salon, plus two Pilates studios, and is making a name for herself. The salon heiress is also focused on raising her two children, Tyler and Olivia, with her ex-husband Tomer Devito, whom she shares custody with.
You can see Eden and the rest of the housewives on The Real Housewives of Beverly Hills, which airs on Bravo on Tuesdays at 9 p.m. ET.