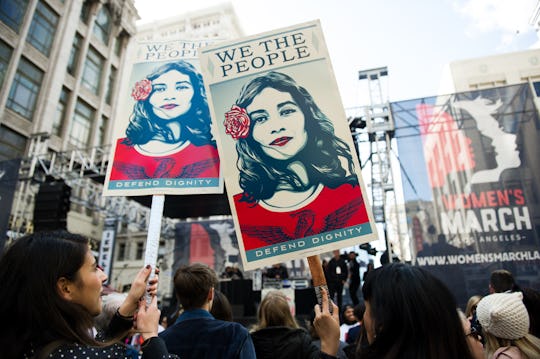 Emma McIntyre/Getty Images Entertainment/Getty Images
The History Behind Women's History Month
Each March, educators across the U.S. (ideally) dedicate a portion of classroom learning time to discussing the contributions and impact made by loads of incredible women throughout history. Additionally, special events and programs take place to commemorate and celebrate the value all these women have added to society in numerous ways. But how did Women's History Month begin? Because it has only been officially recognized for the past 30 years.
What started as one day has expanded into 30 and has become a movement our foremothers would be proud of. Beginning with International Women's Day, which is celebrated on March 8, early organizers had a vision of an entire week of female recognition. According to the website for the National Women's History Project, the Education Task Force of the Sonoma County Commission on the Status of Women initiated a Women's History Week, with more than one hundred community women providing special presentations in classrooms throughout the county as well as the implementation of an annual "Real Woman" Essay Contest which drew hundreds of entries. The ideas and efforts of these Sonoma County forward thinkers caught on, and soon curriculums that incorporated stories of women's accomplishments were included in American history lessons where they had been previously excluded, as TIME magazine explained.
With the success of so many Women's History Week events operating independently around the country, the government decided to make it official and accessible to all students. As the History channel's website reported, "In 1980, President Jimmy Carter issued the first presidential proclamation declaring the week of March 8 as National Women's History Week. The U.S. Congress followed suit the next year, passing a resolution establishing a national celebration." However, educators and law makers alike would soon discover that one week of exploring the topic barely scratches the surface of the impact women have had on our nation.
As the website for Encyclopedia Brittanica explained, seven years after designating a week in March for women's history, the U.S. Congress declared the observance of women's accomplishments would last the whole month, and Women's History Month was born.
Aside from all the inspiring lessons we can learn from badass women throughout time, there is a meaningful lesson within the origins of how Women's History Month began. It's a powerful reminder of how a small group of dedicated citizens can take an idea and affect change on a local — and eventually, national — level. We honor the women of the past as we blaze forward to create a new space for these stories to touch the women of today as well as the future.