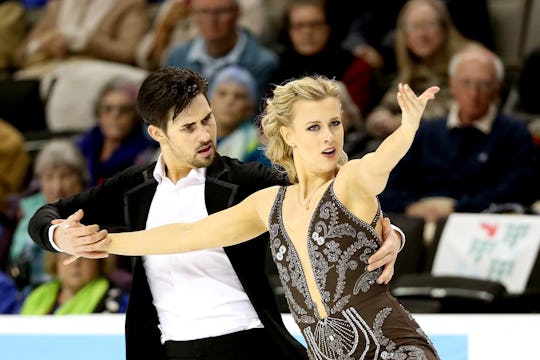 Matthew Stockman/Getty Images Sport/Getty Images
Here's How Ice Dancers Zach Donohue & Madison Hubbell Met
Olympics fans tuning in to the figure skating competitions are sure to notice an undeniable connection between two particular members of Team USA, and since your favorite dramas are on hiatus for the next couple weeks, why not start shipping the athletes? If you're looking for some backstory on how Zach Donohue and Madison Hubbell met, they've shared all the details, and it's the stuff of rom-coms. Incredibly, although the ice dancing partners did date for a few years, they're no longer together, but you'd never know it from the way that they move together.
After performing what USA Today called a "seductive performance that could practically have melted the ice" at the U.S. Figure Skating Championships in January, Hubbell explained that it just comes naturally to them. "Six years of life experience goes a long way," she said. "The steamy quality is something that just kind of happens. We don't try to be steamy, it's just our connection." It does seem unlikely that they could fake it that well. But to hear Hubbell and Donohue tell it, they almost didn't get together at all — on the ice or off — because they couldn't stand each other at first. It was their coaches who realized that the two were made for each other.
According to the partners' official website, Hubbell was in the market for a new partner in the Spring of 2011, after her older brother Keiffer retired. Donohue had never found the right fit, and had just recently split with his last partner, as well. "In their first day of tryouts at the Detroit Skating Club, their coaches at the time noticed an instant compatibility between the two on multiple levels," their bio reads. Not only were they well-matched in technical ability and physical size (Hubbell is tall for a skater, which can present challenges for pairs), but "interpersonally, there was a smoldering chemistry between the two." Keep in mind this is what the former couple has posted on their own site. Just, wow. Imagine what they're not telling us.
In a joint interview with Team USA in November, the pair went into a little more detail. Hubbell said that their coaches "were kind of scheming behind our back" to set them up together, but initially, the ice dancers were not on board with the plan. "We had competed against each other, we were very opposite people, and we literally loathed each other," Donohue said. And then came the fireworks, right? "I had to take her hand and she was like, 'I don't really want to skate with this dude,'" he continued. However, Hubbell found that skating with a partner she wasn't related to meant that she could finally embrace the inherently sexy nature of ice dancing. "It was really freeing," she said. I'll bet.
They started dating about six months later, but after about two and a half years, they decided to call it quits. "We just realized that to date and be with each other 24-7 with our particular personalities was just explosive," Hubbell told Team USA. Forced to choose between their professional and romantic partnerships, they both agreed that they were better together on-ice than off. But how do they just shut off that passion like a switch? Donohue made it sound pretty simple: "We love and respect each other and we don't have to be together to have that respect and appreciation." Hubbell doesn't regret a thing, though, because their time together "allowed us to get to know each other on a deeper level," and now they're closer than ever.
In fact, they're both dating other people now, and if you're wondering who could possibly understand a relationship like theirs, the answer is actually pretty obvious. Hubbell has been with fellow skater Adrian Diaz for over two years now. Soon after they got together, Donohue fell for Diaz's partner, Olivia Smart. "I thought that square created between the four of us would be awkward," he wrote in a Reddit AMA last year, "and so initially, I didn't want to go for it. Our attraction to each other eventually won out, and we have been together now for a year and a half." This is better than Melrose Place.