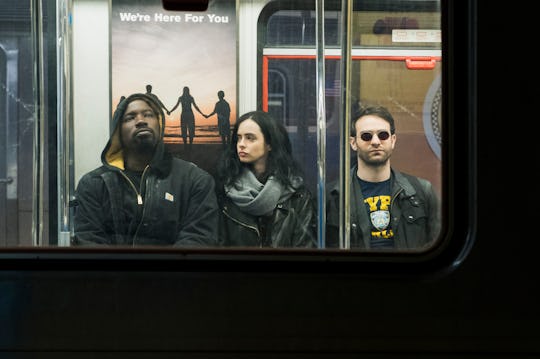 Jessica Miglio/Netflix
Jessica Jones & Luke Cage Knew Each Other Before 'The Defenders'
While the Defenders will be the first time all four of the titular characters of the Netflix Marvel shows are together, it won't be the first time two of the characters meet. Luke Cage first appeared on Jessica Jones and the pair have a bit of history together. So how do Jessica and Luke know each other before The Defenders? It's kind of a long story.
The two first became connected because while under the mild control of Kilgrave, the villain of her story, Jessica was forced to kill Luke's wife, Reva Connors. It was the trauma of having to kill someone that helped Jessica escape Kilgrave's control and start living her own life again. Later on, Jessica began spying on Luke because of what she did to Reva. One day Luke caught her spying and they got to talking about their abilities and pasts, though Jessica conveniently left out the part where she killed his wife.
Eventually, one thing led to another and Jessica and Luke started hooking up. However, when it became clear Kilgrave was back in town, Jessica ended her relationship with Luke. The pair later reconnected when Luke asked for Jessica's help to find his friend's brother. Things got messy though, after he confessed that the real reason he wanted to find the boy was because his sister, Serena, promised to reveal who killed Reva if Luke found her brother.
In the end, Jessica ended up telling him that she was the one responsible for Reva's death when Luke almost killed the bus driver he believed ended Reva's life. Naturally, Luke was extremely upset and the two parted ways again.
Jessica was forced to reconnect with him when Kilgrave told her that he'd met Luke, hinting that he was in danger. Luke's bar was blown up, but thanks to his abilities, he survived the blast and Jessica was there to take care of him and make sure he was alright. Luke seemed to forgive Jessica and they decided to work together to put an end to Kilgrave, against Jessica's better judgement.
Unfortunately, it was later revealed that Kilgrave still had control over Luke and he and Jessica ended up in a battle to the death. Jessica had to shoot Luke in the head to stop him and save herself, almost killing him. Thankfully, Claire Temple was able to save him. (She really is the best.)
Once he recovered, he left Jessica's apartment before she returned. The pair haven't seen each other since... until now.