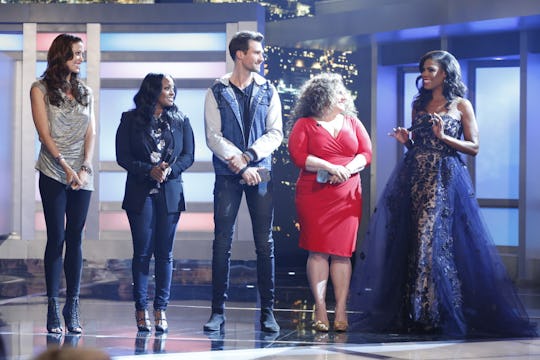 Cliff Lipson/CBS
Marissa & Shannon Have Known Each Other Long Before 'Celebrity Big Brother'
Although the stars in the Big Brother house have various levels of fame, it's not surprising that a number of them have crossed paths before. For example, Shannon Elizabeth and Marissa Jaret Winokur spilled the beans early on that they were friends outside of the Big Brother house. So how do Marissa and Shannon from Celebrity Big Brother know each other?
The pair first met when they were in Scary Movie together. Shannon played a bigger role in the film as Buffy and Marrisa was a "Garage Victim" in the movie. Despite the big difference in their roles, the two seemed to forge a friendship, which was only reignited when they were both cast in Season 6 of Dancing with the Stars. Unfortunately, neither of them won. Marissa and her partner, Tony Dovolani, came in fourth, while Shannon and her partner, (and later boyfriend) Derek Hough, came in sixth. Still, although neither of them won, they obviously had a great time together and they've been friends ever since.
At first, it seemed the duo would keep their friendship outside of the house a secret, giving them an advantage over the other players in the house. However, Shannon revealed the truth to her fellow houseguests pretty early on. Not that it seems to matter since Marissa now appears to be content with throwing her BFF to the wolves.
After Ross became Head-of-Household he nominated Omarosa and Keisha for eviction. However, in side conversations, Ross started seriously contemplating the possibility of back-dooring Shannon, who has proven to be a very stronger player and could later pose a very big threat. The idea was presented to Ross who then presented it to Marissa, and surprisingly she was totally onboard with the plan that would send her real-friend packing. Turns out there's no such thing as friendship in the Big Brother house. Who knew Marissa could be so ruthless? But hey, that's all part of the game, right?
In the end, the backdoor didn't happen though. While Marissa did successfully win the Power of Veto, which gave her all the power she needed to take someone off the block and replace her with Shannon, she didn't use it. Instead, she kept nominations the same because Keshia revealed that she actually wanted to go home so she could return to her baby daughter.
Still, just because Shannon was saved this time, she's definitely not safe in the house, and more importantly, it doesn't seem like she even realizes how much her game is in jeopardy right now. She didn't seem to know about any backdoor plan, which of course is the point, so she still thinks her alliance is working with her, not against her. Therefore, unless she or James (her only real ally in the house right now), wins the next HOH, Shannon could be sent packing.
It'll be interesting to see if Shannon tries to pull the best friends card on Marissa, to convince her to let Shannon stay. Although even if she does, it seems Marissa has her mind made up. Marissa is playing to win and if that means betraying a friend to make sure she's the one sitting in the Final Two, than so be it. So sorry Shannon, but it looks like you could be on your way out very soon.
To find out who's the next HOH and what the actual plan is for nominations, tune in to Celebrity Big Brother Wednesday, Feb. 14 at 8 p.m. ET on CBS. This is one you won't want to miss!
Check out Romper's new video series, Romper's Doula Diaries:
Watch full episodes of Romper's Doula Diaries on Facebook Watch.